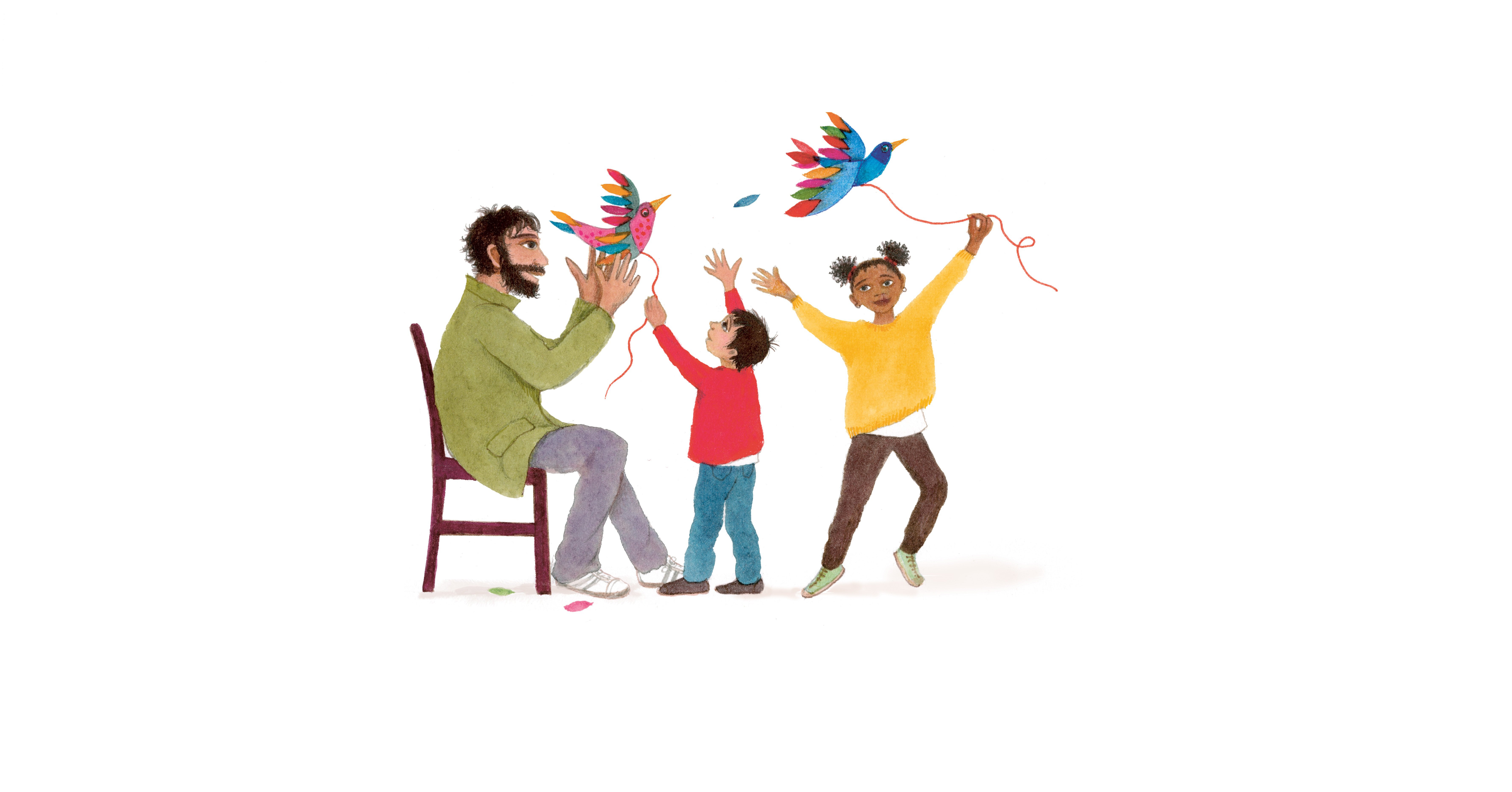 Seven wishbirds have taken flight across Islington. Use the clues below to find them and write down the word on their wing.
Paper copies of the trail can be collected from South Library, Essex Road and there is an arts and crafts table at Culpeper Community Garden where you can make your own wishbird.
Clue 1
This house of books welcomes all
Here you start the story trail
So take up your wings to
Follow the Swallow!
---
Clue 2
This colour door rhymes with 'true'
This is where Blessing finds a true friend called Hani.
---
Clue 3
The name of this saint rhymes with dairy.
This is a place where Blessing enters each weekday to learn, sing and play.
---
Clue 4
It's not only blessings that are divine
Here thirsty, hungry travellers can 'stay' for some juice and cake
But not for too long
Swallows are swift and never late!
Hint: Look all around outside to find this bird!
---
Clue 5
This kind of moving puppet is the opposite of a big devil!
---
Clue 6
Welcome to the palace of art and design
Here you can build anything in your imagination and on the shelves,
if you dig and delve you'll find all you need to make a Wish Bird
Hint: Look all around outside to find this bird!
---
Clue 7
Is this a garden or an orchard?
Growing precious community fruit
and flowers
Did you know nature has magical healing powers?
Pause here to make your own Wish Bird.
---
Once you've found all the words, put them into a poem and send it to hello@getislingtonreading.org.uk to enter an exciting prize draw.
This trail is inspired by Swallow's Kiss. Filled with light, love and birdsong, Swallow's Kiss is a wonderfully uplifting story for families to share that explores the common threads that connect our communities, inspired by writer Sita Brahmachari's and illustrator Jane Ray's experiences as artists-in-residence at the Islington Centre for Refugees and Migrants.
Swallow's Kiss is one of Islington-based publisher Pop Up's Ten Stories to Make a Difference, a collection of new illustrated stories and poems by children's writers and illustrators to support Pop Up's vital work in schools, communities and with talented writers and illustrators. Visit pop-up.org.uk to find out more.
Copies of Swallow's Kiss can be found in South Library on Essex Road. The trail will be on display until Tuesday 31 August.