Take 10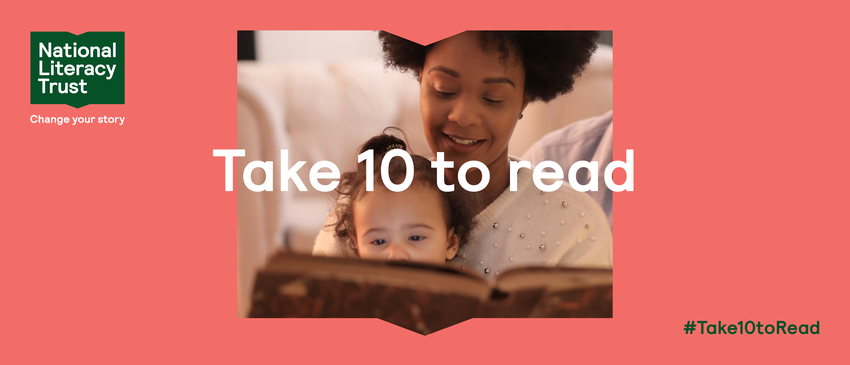 Take 10 Wrap Up
Well, that's it folks! Our #Take10toRead moments have all wrapped up. Over 32,000 children tuned into our events, with teachers downloading our wellbeing resources helping to support their own events happening across the country.

Missed the events? Fear not, we've uploaded the recordings here for you to use throughout the year, helping your school or home pupils benefit from these brilliant #WorldMentalHealthDay resources.

Remember to Take 10 minutes a day to benefit from the mood boosting effects reading can provide and share your Take 10 moments with us by tagging #Take10toRead.
Escape into a book and #Take10ToRead
Life is busy and it isn't always easy to find time for yourself.
Reading can help you relax, boost your mood and escape elsewhere – and it doesn't have to be a book. It could be the post-match analysis of Saturday's football game, an interview with your favourite actor, DIY hacks or even recipes. Reading something that interests you can transport you away from day-to-day life.
That's why, on Tuesday 10 October at 10am we are calling on the nation to #Take10ToRead with us in support of World Mental Health Day.
Take 10 is a campaign to promote the wellbeing benefits of reading. Try it for 10 minutes today and see where it takes you.

Support your pupils and students to Take 10, inspiring them to keep reading every day at school and at home.

Learn more

Support your staff, colleagues their families and your community to Take 10 every day to boost their mood.

Learn more

Sharing a book with a child is fun. It's a time for affection, laughing and talking together. And it can also give children a head start in life and help them become lifelong readers.

Learn more
Our research
Our latest research shows the power of reading to boost our mental health and wellbeing. 3 in 5 children and young people aged 5 to 18 said that they read because it relaxed them, and nearly 1 in 2 read because it made them feel happy. Read the full report here.
Reading can help everyone and is a great way to:
Relax, unwind and boost your mood

Escape from the pressures of life and reduce stress levels

Improve memory and concentration
Previous Take 10 moments
To inspire people to take up reading and continue the Take challenge, the National Literacy Trust holds campaign weeks and national moments where 1000s of people across the UK drop everything and read together for 10 minutes.
Over 58,000 people across the UK took part to mark World Mental Health Day.

Learn more

More than 55,000 school children attended our Take 10 moment with superstar TV presenters Ant McPartlin and Declan Donnelly!

Learn more

We hosted a live workshop for schools with author Maz Evans, plus authors and Literacy Champions shared why reading is good for their wellbeing.

Find out more