Criminal justice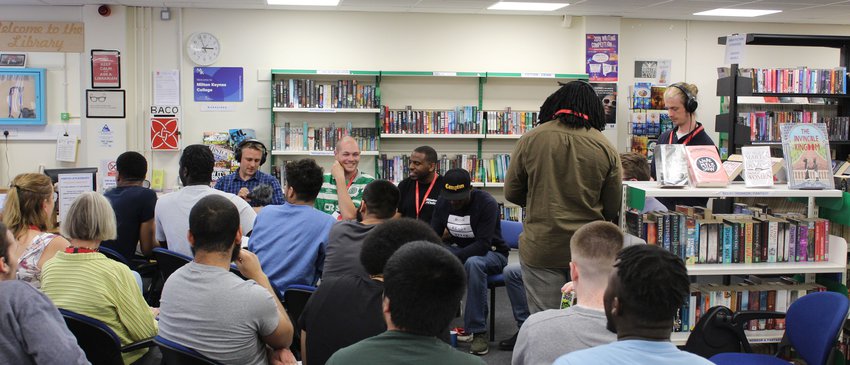 At any given time, there are around 80,000 people in custody in England and Wales. Around two-thirds of them have the literacy skills expected of an 11-year-old. This is more than four times higher than in the general adult population.
About our programmes
The National Literacy Trust currently runs a range projects in prisons and Young Offender Institutions – Books Unlocked, New Chapters, Inside Stories with Audible and Readconnect – which span reading for pleasure, creative writing, audio creation, and parent and child storytelling. We also deliver work as part of the Ministry of Justice's Literacy Innovation Fund. These projects are delivered in approximately 100 prisons and Young Offender Institutions across the UK. We work in these settings because we know adult literacy levels among the prison population are lower than among the general population, and that access to cultural and enrichment activities in these settings are few and far between but can make a huge difference.
Our projects not only help to support and improve the literacy skills of participants and create a culture of reading for pleasure within their settings, they also support family connections, raise hopes and inspirations for the future, enable people to share their stories and have a positive impact on mental wellbeing.
Our work in the criminal justice space
We currently run four programmes in the criminal justice space. As well as raising literacy levels, our work in this area:
Keeping families connected

Supports people in custody to build better relationships with their children through books and storytelling.

Improving wellbeing

Encourages reading and writing for pleasure, wellbeing and self-expression.

Raising the aspirations of young people in custody

Harnesses the power of creative writing to raise the aspirations of young people in custody – around 90% of whom have been excluded from school – and empower them to tell their stories.

Connecting their work with real audiences

Recognises the impact of people having real audiences for their work and working with authors who have lived experience of the criminal justice system.

Using various formats to engage with literacy

Uses a range of genres and approaches to engage participants – from lyric-writing and podcast-making to performance, storytelling, reading.