Readconnect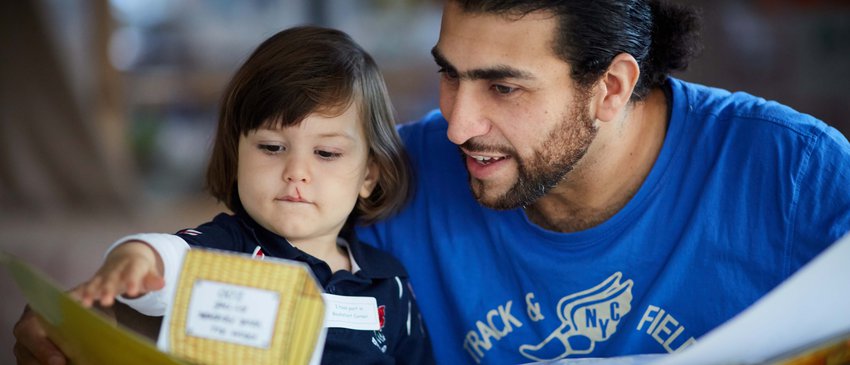 Readconnect works with men in HMP Swaleside where more than half of the population is serving a sentence in excess of 10 years, and the women in HMP/YOI Downview in Surrey, which houses up to 350 women.
About the programme
Storytelling workshops to help families bond
Readconnect helps participants to use storytelling to bond with their children and young family members while they are in prison. Participants attend sessions to build their confidence and learn new skills such as telling stories and reading aloud. Following the workshops, the participants will use their new skills on visits, family day sessions, and over the phone with their children and young family members.
Encouraging connection with resource packs and in-cell tech
Alongside delivering workshops, the project offers in-cell resource packs based on storytelling and building literacy. The resource packs include activities which can be completed with a child over the phone or through post, so that participants can continue to form meaningful relationships with their children between family day sessions and visits.
The project also provides digital resources – from tips on reading aloud to writing a children's story – which are uploaded and shared via the tech available in the prisons.
Sharing the joys of a good book with book gifting
Finally, Readconnect donates a wide range of books and resources, with the aim of empowering participants to read and engage with their children through literature and storytelling. We support both prisons with books suitable for a range of ages in the library and the visitors' centre, and we gift books in activity packs used during family days.
The need:
Maintaining strong connections with children and families plays a vital role in supporting the rehabilitation and resettlement of people in prison. Regular contact with family members can support mental health and wellbeing, add structure and stability to their lives (and those of their children and family members), and give meaning to their rehabilitation.
However at HMP Swaleside, the length of the sentences and the difficulty reaching the prison on the Isle of Sheppey, makes it hard for families to visit. Many of the residents at HMP Swaleside report that their family and friends find it quite difficult (31%) or very difficult (41%) to visit. As a result, 55% of the prison population receive visits less than once a week. This puts a huge strain on maintaining family relationships, especially for the 52% of men with children under 18.
Thanks to the Readconnect project, fathers at HMP Swaleside and mothers at HMP Downview are given the chance to bond with their children and young family members. The targeted workshops and activity packs teach fathers how to spend time with their children, using activities proven to improve speech, language and communication skills. This helps makes them feel and recognise the valuable role they play in their children's learning.
Readconnect workshops:
Readconnect officially launched in April 2022, and has so far delivered the following workshops across the two prisons:
Bringing bedtime telephone calls to life, with Kestrel Theatre Company
Early years creative writing with Peter Bently, and illustrations to accompany with John Bond
Masculinity, fatherhood and poetry with Yomi Sode
Writing children's stories with Patrice Lawrence
Writing poetry for your children with Kate Wakeling
Readconnect feedback:
We have been delighted with the positive project feedback so far.
Author Peter Bently, who delivered a workshop at HMP Swaleside, said:
"The Readconnect workshops at HMP Swaleside were among of the most rewarding I have ever done. I was incredibly impressed by the willingness of the men to engage in the sessions, and by the imagination and creativity they demonstrated in their writing. They all said how much they had enjoyed the sessions, and in fact their only regrets were that the workshops weren't longer, and that there weren't more of them."
Poet Kate Wakeling, who delivered a workshop at HMP Downview, said:
"It felt like an unexpectedly amazing day. I still feel so shocked and saddened by what prisons are, but alongside all of this I also found it a really uplifting and hopeful experience to be there. I loved meeting the women and I'm so glad their response to the workshops was so warm. I can't stop thinking about the wonderful work they created that they're now going to share with their children. I felt really well supported in planning and delivering the sessions – by both NLT and the prison library staff. This feels like the most rewarding project I've ever taken part in."
Rebecca Bostock, Learning and Skills Manager at HMP Swaleside, said:
"In the 25 years of working within the prison service this is one of the few times I have been overwhelmed by the impact and change that can be achieved by engaging men in the right activities, in the right way, for the right reasons and with the right professionals. The resources are unbelievable quality and enabling the men and their families to share the same books gives an invisible connection that cannot be measured."
Read the 2022/23 evaluation of Readconnect.
If you would like more details about the Readconnect project, please email Rebecca James.