We can work collaboratively with you and your local partners to develop a plan to address low literacy either across a whole local authority or in priority areas. 

To find out more about our work and costs, email our Head of Local Areas Jason Vit. 


We can:
Work in partnership with you to develop and deliver a National Literacy Trust Hub in your area

Respond to local authority commissioning opportunities with bespoke literacy programmes

Facilitate multi-agency workshops to plan a shared vision and framework for action

Build a local evidence base – review and compile data sets and identify your priority communities

Provide research and examples of good practice from other areas

Draft action plans including communications planning

Make the case for literacy as a strategic priority – draft proposal papers, meet with senior officers/Cabinet and speak at local events

Support evaluation – review progress at key milestones, offer advice around evaluation methodologies, support you to apply Social Return on Investment models

Advise on consultation with local residents

Train frontline staff – increase their awareness of low literacy and offer practical ways they can support literacy as part of their work

Local authority literacy pledge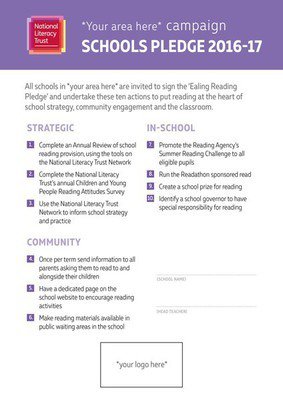 We will work with you to tailor the pledge to your local priorities and existing initiatives, so that your school improvement work will be underpinned by a shared commitment to literacy. 

Schools become National Literacy Trust members and have access to a rich source of guidance and support based on our extensive research and experience.

Signatory schools can display the Pledge certificate in their communal areas to recognise staff commitment, and to remind visitors of the high value the school places on literacy. 

The 10 promises are in three groups:
Strategic, including an annual review of literacy provision and survey of children's attitudes to reading and writing.

Community, including building links with parents and beyond.

In-school, which involves pupil-focused activities and appointing a governor responsible for literacy.

We are delighted to have launched our first pledge with Ealing Council School Effectiveness Team where over 40 primary schools have taken up the challenge. We are working with a number of other local authorities, including our Literacy Hub areas, to develop their own versions.

If you would like to work with us on a literacy pledge for your area, please email schools@literacytrust.org.uk with 'literacy pledge' in the subject line.