Helena Goodrich, English teacher, reflects on her open letter writing imitative students took part in during lockdown while teaching at Mulberry Academy in Shoreditch to help navigate and articulate this extraordinary time.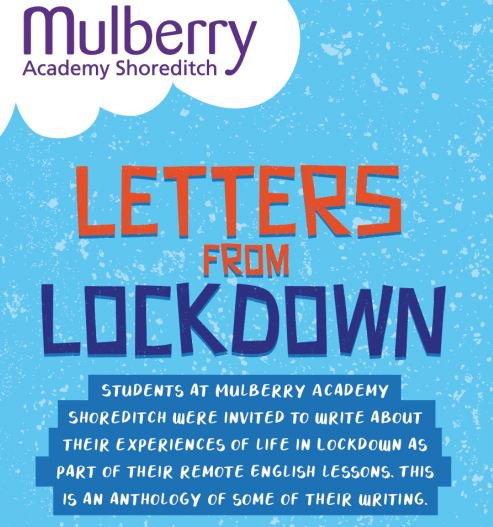 'Hello guys, are you there?'
That was the universal cry of teachers across the country for six months. The change from seeing students every day, trying to get them to stop talking in class, to sudden radio silence was an unexpected shock.
When lockdown originally hit, it was difficult to decipher whether students were engaging with their work and, even more importantly, whether they were ok and how they were spending this surreal block of free time.
A huge gulf opened between students and their teachers and I wanted to reach across that and find out how students were doing, as well as motivate them in their writing.
Since I already ran a creative writing club at school, I decided to activate this via Google Classroom during lockdown and was amazed by the beautiful responses I received from students. It made my day to read the comments students would post on the classroom thread, checking in on each other or recommending films to watch. If anything, students were writing too much and I felt guilty when I did not have time to read their work straight away.
As part of my PGDE programme I needed to design a targeted literacy intervention. This allowed me to research literacy as a wider issue, particularly within the context of societal deprivation.
As the National Literacy Trust explains on its page on the importance of literacy: Lacking vital literacy skills holds a person back at every stage of their life. As a child they won't be able to succeed at school, as a young adult they will be locked out of the job market, as a parent they won't be able to support their own child's learning. This intergenerational cycle makes social mobility and a fairer society more difficult.
It is also evident that students from disadvantaged backgrounds were struggling most to complete work in lockdown, heightening the existing inequalities, often due to lack of technology or difficulties at home. This was particularly apparent at my school which has over 70% of students on pupil premium.
This included a Year 12 student without any access to a computer or even a phone, who had not completed any work as a result. Many students I teach speak English as an additional language, and their parents are sometimes unable to help them.
Even for those able to access work, there were other difficulties, particularly when it came to setting routines. When I set an online survey, many students reported feeling 'demotivated' when it came to completing their work.
I decided to tackle this by creating a school- wide creative writing competition called 'Letters from Lockdown'
This project invited students to write an open 'letter' about their experiences in lockdown and the best ones would be published on the school website.
I hoped this project would allow students to process this difficult time in a way that might be therapeutic, as well as motivating students to write more and enjoy the process of writing. This opportunity could perhaps have a positive and healing effect on students struggling with lockdown and it would help me to understand how to best support them.
As a creative writer, the generic nature of creative writing tasks at GCSE level has long been a concern: I cannot think of how to write something interesting about many of the images, so how should I expect students to? The project was set as optional 'holiday' homework. Whilst students in the higher sets generally seemed more likely to complete the activity than those in lower sets, there were also examples of students who had failed to complete any other work but chose to do this activity. The responses were varied in style and content but certain themes appeared regularly: students celebrating Eid in lockdown, finding new hobbies, doing their best to keep in touch with family.
Some of my favourite responses were in the form of poems which I found particularly interesting given recent National Literacy Trust research that students were writing more poems in lockdown.
One student's response, although written in prose contained beautiful metaphors for lockdown:
"a flimsy calendar filled with cold days, merging into a continuous sleep, with your eyes wide open … you never know why the end of the sentence doesn't stick, like the words fall apart as if climbing stairs that disappear halfway."
8 out of 10 students believed that the letter had a positive impact on their wellbeing and helped them to process events
"There was no script, I was just writing down my feelings and thoughts and more activities along these lines would keep up people's mental health." Said one of my students.
I found running this project rewarding and motivating. Teaching from home was challenging for teachers and it was encouraging to read how students were managing this time as well as opening up valuable discussions.
I'm grateful to my Head of Department, Amy Higgins, and Mulberry school for being so supportive of this project.
As we try to return to school as we know it, it would be easy to focus on exams and the need to catch up on what has been missed. However, school time is precious and we must think how best to engage and motivate students, to allow them to share their own thoughts, voices and experiences by offering creative opportunities to express their individual perspectives on the world itself, not just GCSE texts.
If you are interested in reading this collection, please visit: http://www.mulberryacademyshoreditch.org/must-read-memoirs-of-lockdown/
Here's another great example of a poetry writing activity from the National Literacy Trust: Write about your lockdown experience with poet Laila Sumpton
Helena now teaches at Bridge Academy in Hackney.