National Writing Day 2024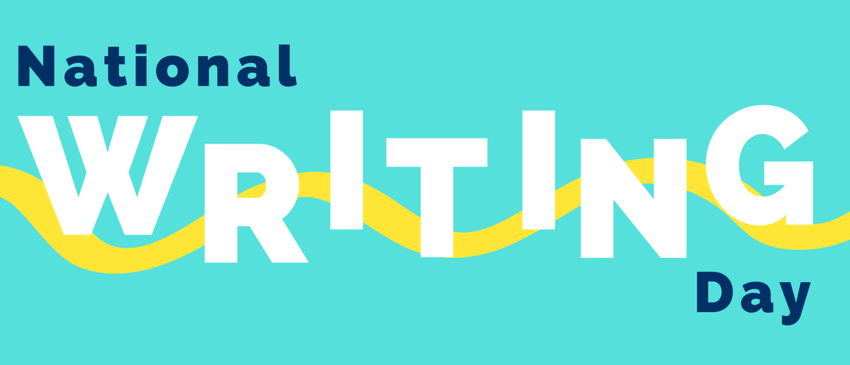 What is National Writing Day?
National Writing Day is an annual celebration of the power of writing creatively, inspiring people of all ages and abilities to try writing for fun and self-expression.
It takes place each year in June, and provides a great oppportunity to celebrate the reasons why young people write (as outlined in our research) and to encourage everyone to find their own motivation and voice.
---
Writing research
Our new research in to Children and young people's writing in 2023 has found that:
1 in 3 (34.6%) children and young people aged 8 to 18 said that they enjoy writing in their free time.
1 in 5 (19.3%) children and young people told us that they wrote something daily in their free time.
1 in 2 children and young people say that they write to be creative (50.2%) while 2 in 5 write to express their ideas and imagination (40.5%) or their thoughts and feelings (45.5%).
Explore all our research in to writing.
Programmatic approaches to supporting writing for enjoyment
Our new summary report highlights the ways our evidence-based Young Writers programmes support schools to develop lasting writing for enjoyment practices, building on a three-pillar model.
Learn more in our Programmatic approaches to supporting writing for enjoyment report.
---
Why writing is important
Writing is a lifelong skill empowering communication and self-expression. It is crucial to children and young people's development as it enhances self-confidence and critical thinking skills, but also encourages creativity.
Writing is also part of everyday life, from making plans with friends over text or WhatsApp, helping with children's homework, writing emails in the workplace, or even making a shopping list. However, 1 in 3 children currently leave primary school without the writing skills they need to succeed in life.
At the National Literacy Trust, we champion writing for enjoyment as a key part of supporting children and young people's writing attainment.
Writing for enjoyment:
supports mental wellbeing
inspires creativity
helps children express their thoughts and feelings
improves writing skills.
We believe writing doesn't just belong in an English lesson but can be used as a fun way to explore many different ideas and topics. We know that writing for enjoyment has the wonderful ability to boost children and young people's wellbeing and help them feel connected to the world. In our writing resources, you'll find activities that will help bring writing for enjoyment into every corner of your classroom.
When we asked children and young people to tell us why they write, we identified 10 writing motivators which we grouped conceptually to form three categories of young writers:
the creative writer
the mindful writer
the social writer
Our resources and writing programmes are designed for them.
National Writing Day resources
To help you mark National Writing Day we've created new classroom resources including insights and activities for early years as well as inspiration and ideas for ages 4 to 14.
Writing for pleasure activities for schools
To help you mark National Writing Day we've created a brand new resource providing a range of classroom writing games, prompts and ideas to complete with your pupils ages 4 to 14 to celebrate writing, reflect on reasons for writing and encourage everyone to find their own motivation and voice.
The writing activities align with the statutory requirements of the English programmes of study: Key stages 1 and 2 National Curriculum in England) which states that pupils should be taught to develop positive attitudes towards and stamina for writing by:
writing narratives about personal experiences and those of others (real and fictional)
writing about real events
writing poetry
writing for different purposes.
Download writing activities for schools
National Writing Day activities and writing prompts
Supporting writing in the early years
For children in early years settings, we know that early experiences of writing will have significant influence on their views and feelings about writing as they get older and learn the necessary skills to become successful writers. Our resource explores how to support children in their earliest years to develop a positive view of themselves as writers, develop an interest in the purpose of writing, and to begin to recognise the power of writing as a tool for communication.
Early years activities supporting writing
Supporting writing in the early years
More writing resources
Explore the resources linked below to discover classroom ideas and session plans aligned to creative, mindful and social writing.
Teaching sequence and resources to run our Comics Rule! writing challenge in your classroom, exploring the exciting world of comics and graphic novels.

Learn more

We developed these Comedy Classroom resources in partnership with BBC Learning. They provide a framework to explore comedy writing with pupils while enjoying plenty of...

Learn more

Writing from Silence is a combination film and writing for enjoyment resource. The film takes pupils on a journey into the past, through an interactive tour of the National...

Learn more
Created in partnership with the RSPB the Writing from Nature resources are designed to widen access to, deepen knowledge of, and increase appreciation of the natural world...

Learn more

Set up a writing club in your school to help establish a whole-school writing culture.

Learn more

Ideas and activities to support your school in using diaries as an introduction to autobiographical writing and as a way of promoting family and community engagement.

Learn more
Writing programmes
Our writing programmes for schools inspire children and young people to write for enjoyment and help them to improve the quality of their writing.
Explore writing programmes