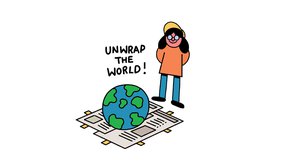 NewsWise is a free, cross-curricular news literacy project for 7-to-11-year-olds across the UK. It helps teachers empower their Key Stage 2 pupils to understand, critically navigate and report real news.
The programme is free for schools, and is run in partnership with the Guardian Foundation and the PSHE Association.
Visit the NewsWise programme page to learn how your school can join the programme and benefit from:
an interactive 'Enter the Newsroom' workshop, delivered by the NewsWise team
opportunities to meet and work with real journalists
training for teachers to run NewsWise in the classroom 
a Guardian newspaper for each pupil taking part 
a year of National Literacy Trust membership
NewsWise resources
Supporting the programme we have a fully planned cross-curricular English and PSHE unit of work, with lesson plans and resources designed by literacy specialists and critical literacy experts, free to access for all teachers:
---
Crisis in Ukraine: looking after children's wellbeing
Pupils might be finding news stories about the crisis in Ukraine overwhelming and upsetting. These resources can help you implement strategies to look after their wellbeing while safely discussing the news and answering their questions.
During major news stories, misinformation spreads easily. False information can be distressing. These resources will help your pupils to develop the skills to sport fake news and seek out factual information.
You might also be interested in