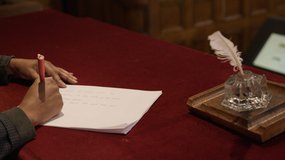 Introduction
Writing from Silence is a combination film and writing for enjoyment resource produced by our Young Writers team. The film takes pupils on a journey into the past, through an interactive tour of the National Justice Museum led by poet Panya Banjoko.
The film is an emotive experience that encourages the viewer to consider notions of crime, punishment, redemption and justice. It asks pupils to pay attention to their senses and feelings, and describes how to use these to write poetry.
Film and writing exercises
The film contains five writing exercises based on the viewer's reactions to different parts of the museum: outside the museum, the courtroom, the cells, the dark cell, and the yard.
It can be used as a free-standing resource to help pupils explore their own responses to issues of justice, and to inspire writing. The film is available below and accessible to all.
Silence and writing
The film and resource are titled Writing from Silence. Silence allows us to be aware of our feelings, to look, to listen, and to use our sensations. Silence can also be a punishment: a way to shut out the voices of those we do not wish to hear.
We hope that through the experience of engaging with the film or resource, pupils will find their writing voice and be able to use their imagination to think about the voices of others.
Lesson plan resources - programme participants only
This accompanying resource is suitable for ages 8 to 14 (Key stage 2 and 3, Years 4 to 9) and is available only to schools signed up to the Young Poets programme. The lesson plans follow on from the film and are designed to encourage writing for enjoyment through poetry. They focus on all aspects of writing poetry: generating ideas and language, group writing, individual writing, editing, and performance.
Context and details
In early 2022 we became aware that some schools were finding it difficult to fully take part in our Young Poets programme due to the COVID-19 pandemic. In response, we collaborated with The National Justice Museum, poet Panya Banjoko, and film-maker Anna Weltner to create an interactive film visit to The National Justice Museum in Nottingham.
The resource includes
Accessible for all:
An educational film: A tour of the National Justice Museum in Nottingham led by Panya Banjoko.
The film comprises five activities designed to encourage enjoyment of writing through poetry.
Accessible only for programme participants:
A handbook with five poetry lesson plans.
Model poems for you to use in class.
A poetry performance toolkit.
Poetry starter exercises to use in class.
For members who require a fully subtitled version of the film please contact Sean Cumming: sean.cumming@literacytrust.org.uk
---
Partners
Panya Banjoko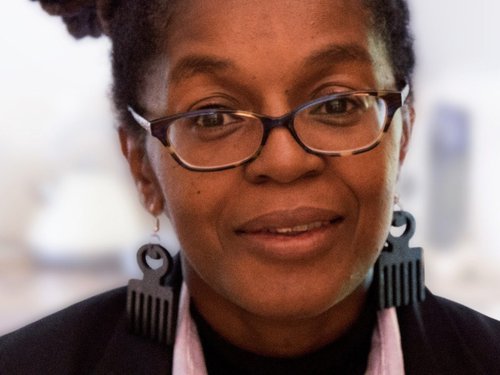 Panya Banjoko is a UK based poet, archivist, and PhD researcher at Nottingham Trent University. As a poet, her poems feature in numerous anthologies and exhibitions including the Beaconsfield Gallery, the British Film Festival, and International Film Festival in Rotterdam. Her debut collection of poetry, Some Things, was published by Burning Eye Books (2018). Her second collection (Re)Framing the Archive will be published in June 2022. Panya is a multi-award-winning poet, co-ordinates a Black Writers' Network, and is a patron for Nottingham UNESCO City of Literature
Anna Weltner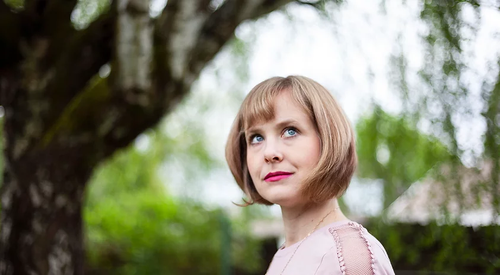 Anna Weltner is an American documentarian and video artist. She specialises in films about artists and art history, and in creating video pieces that are works of art in themselves. A former journalist, she holds a BA in film and art history (minor) from Portland State University in Portland, Oregon, USA. She is currently based in Leeds, UK, where she is studying for an MA in Documentary Filmmaking from the Northern Film School.
National Justice Museum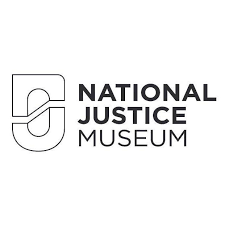 The National Justice Museum in Nottingham provides inspirational educational visits using real courtrooms, museum spaces and objects to help children and young people gain a hands-on understanding of the law and justice. Through programmes for Key Stages 1-5 they tell the story of law and order in authentic spaces and through intriguing real-life events.
Download file
You might also be interested in