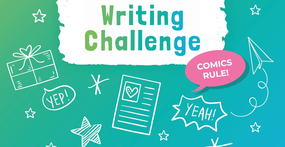 For a spectacular third year, we are excited to be bringing you Comics Rule! - a fun and creative learning sequence.
With ongoing generous support from REY Paper and in collaboration with Beano, Comics Rule! can be downloaded from this page, or you can find the resource at the Oxford Story Museum.
It has been designed to cover key elements of the Key Stage 2 reading and writing curriculum and to build students' confidence. Using the exciting world of comics and graphic novels, this unit teaches key comprehension and visual literacy skills alongside creative writing, as pupils work together to produce a comic of their own at the end of the sequence.
Experts at Beano guide us though some top tips for creating stand-out comic imagery and their approach to storytelling – ensuring that students gain the skills and confidence they need to produce a comic story of their own.
How to use Comics Rule! in the classroom
All resources are free to download from the available files list on this page. Begin with the Comics Rule! learning sequence overview to plan how to integrate the sessions in to your planning. It includes a guide to the sessions, learning outcomes, and curriculum links.
This unit comes complete with all planning, teaching PowerPoints and resources and consists of 12 individual sessions that cover:
Exploring comics and graphic novels
Analysing comics and graphic novels
Stick people rule!
Comic strip challenge
Creating a character
Bombastic balloons
Developing the story world
Script writing for comics
Comic creation

Download files
You might also be interested in