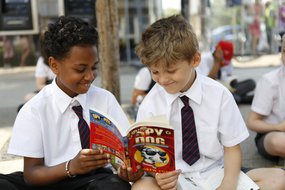 Graphic novels are an often-underused yet powerful tool in the primary classroom. For many children, they come as a welcome change of pace and style, and can be used to introduce readers to a wide range of themes, characters and genres.
Developing readers who struggle with decoding long passages of text may find the images provide welcome support. However, more able readers will also enjoy the challenge of delving in to images to decode the details of engaging stories and characters' emotions.
In this resource we suggest some great starting points for using graphic novels to engage readers and prompt discussion.
The resource covers:
The role of graphic novels in reading for pleasure
Delving into inference
Exploring speech through expression, fluency and dialogue
Writing - using the form as a stimulus for writing, and exploring the links between images and sentence length.
Graphic novel book list
Furthermore, we've included an introductory book list of titles ideals for children aged 9 to 11, featuring Kwame Alexander, Shaun Tan, R J Palacio and Margueritte Abouet, to help you and your class jump in to the diverse world of graphic novels.
---
If you are inspired by the use of graphic novels and comics to support literacy, take a look at these highlights from our 2021 Primary Conference which featured former comics laureate, Hannah Berry, and this blog from Mike Stirling, Head of Beano Studios Scotland.
Download files
You might also be interested in