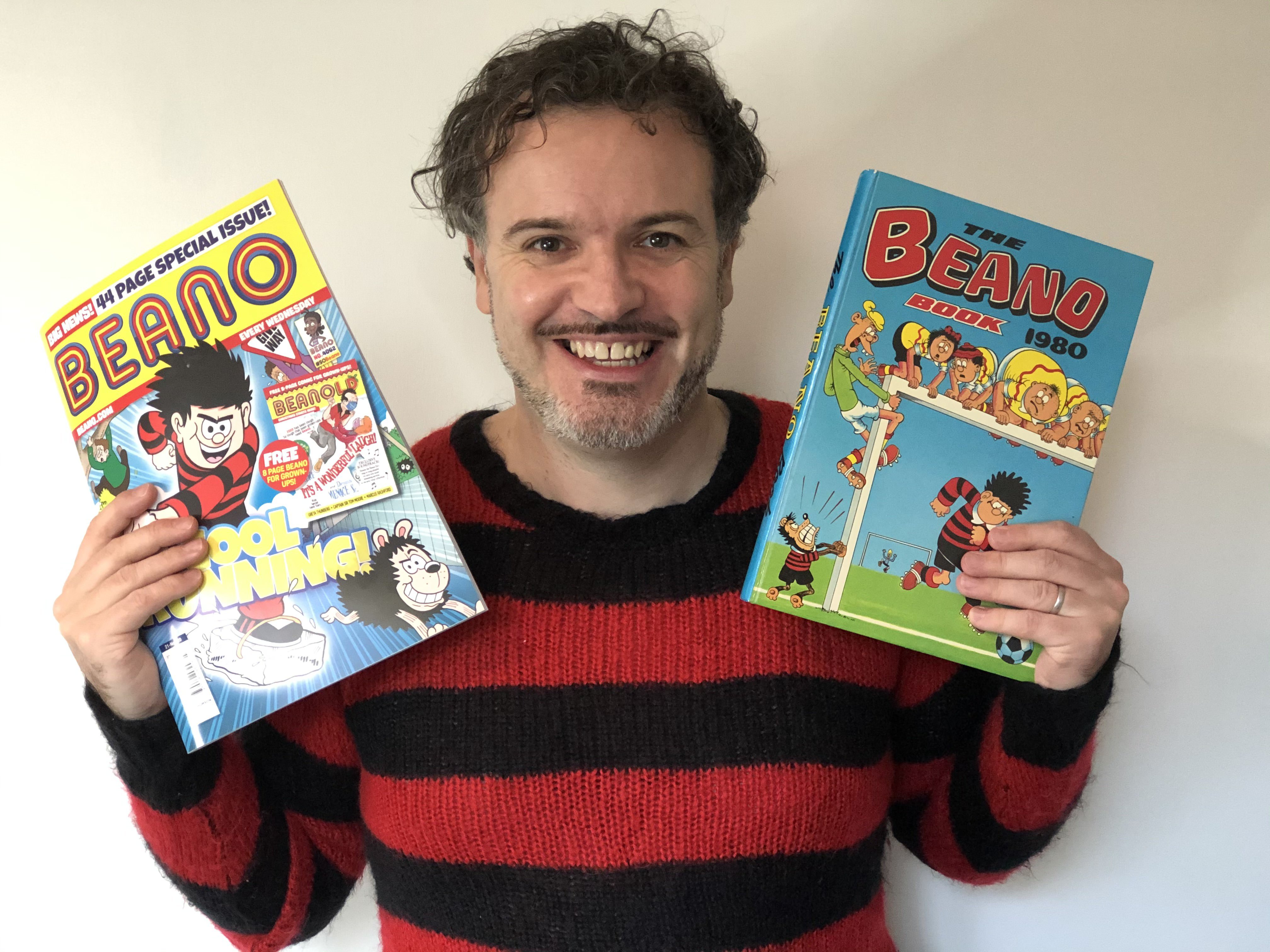 By Mike Stirling, Head of Beano Studios Scotland
During the National Literacy Trust's primary conference in March, Everyone back to school: literacy by stealth, we joined experts from the world of comics and graphic novels to discuss comics' role in harnessing children's creativity and exploring complex emotions and issues.
Dennis, the perennial ten year old, has always been top of the class for mischief and a popular choice for reading among children. 70 years on from his first appearance, Dennis is undergoing a startling growth-spurt of popularity, with a copy of Beano sold every seven seconds, proving he's just as relatable a hero for schoolkids today. Plus, legions of kids tune into animation series Dennis & Gnasher: Unleashed! on CBBC and visit Beano.com. Nowadays, Dennis boasts a wider appeal than most social media megastars.
Many teachers remember his antics from their own schooldays, when they'd daringly sneak a copy of Beano comic into the classroom but he'd also top any school staffroom poll for least-wanted pupil!
But a growing number of teachers have bravely invited Dennis into their classrooms for a very specific purpose: to prove to kids that reading can be pure, visceral fun. The comic strips that Dennis and his friends star in every week are key to unlocking this discovery. So, something formerly written off as naughty is now widely understood to be 100% good.
For generations, comics were a standard weekly treat. I took my own weekly copies of Beano and Dandy, supplemented by swapping for my sister's Bunty and Judy, pretty much for granted. Nowadays, weekly comics have dimished as a publishing genre. For many kids, the first place they'll be introduced to the wonder of comics is in the classroom. It's hugely satisfying to watch a reader navigate a comic for the first time. The story leaps off the page, straight into their imagination.
Access to comics encourages children to enjoy regular reading as early as possible. They combat the tricky transition between being read to and becoming confident enough to navigate hundreds of densely printed pages solo.
Comics bridge the gap and make the process manageable by supporting recognition of unfamiliar words and phrases. A reader can quickly understand new vocabulary from the surrounding visual context. Graphic representation of a situation, especially in capturing characters' emotions, is an inclusive and inspirational way to open up classroom discussions.
All comics are great for this, but the secret to Beano's universal popularity is our core DNA: humour. The classroom environment magnifies the effect of laughter being contagious - laughs are longer and more intense where others are present. This is important, as laughter is scientifically proven to boost learning.
The National Literacy Trust look into children's reading habits regularly and in lockdown lots of children were turning to adventure, comedy and fantasy and more children and young people aged 9 to 18 say that they read fiction, non-fiction, comics, magazines and poems on paper than on screen, which highlights the importance of giving children access to comics in the classroom.
Teachers returning to Beano after a 'break' since their own childhood are delighted to see how characters and Beanotown have been updated. Relatable situations in our stories are informed by our nationwide 'Trendspotters'; an inclusive panel of kids, who guarantee we mirror the reality of modern lives.
These kids have also guided the positive way teachers are depicted in Beano. Instead of the outdated dastardly disciplinarians of the past, we now include dedicated role models such as Miss Mistry, a former pupil, who empowers her class to discover creative solutions to problems.
Miss Mistry welcomes comics into her classroom and we were thinking of her, when we teamed up with brilliant teachers from across the country to create our free school resources stash at beano.com/schools
There's a selection of free digital Beano comics to explore. Plus, you'll find free lesson plans, featuring our characters, covering subjects from Emotional Wellbeing to Financial Literacy. My favourite is our Joke Writing pack. It's called 'SPaG LOLZ' and proves how learning, then breaking, the rules of spelling, punctuation grammar helps gag writing.
Beano's forthcoming search to discover Britain's Funniest Class, would be an ideal opportunity to introduce this as a fun project. It's a chance for every class to prove that they're even funnier than the pupils of Bash Street School. I can't wait to mark the homework!
National Literacy Trust subscribed schools can claim a fantastic discount on a Beano subscription - learn more about membership partner discounts.