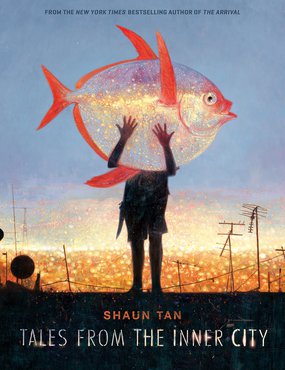 An engaging transition project based on Shaun Tan's 2020 CILIP Kate Greenaway Medal-winning book, Tales from the Inner City.
This rich and evocative sequence of short stories and poetry explores our relationship with nature, taking the reader into another world and allowing them to consider the human relationship with nature from different points of view.
The activities have been designed to be used with pupils in their final year of primary school supporting them to create their own inspirational collection of writing and illustrations.
The teacher guidelines also include continuation ideas so that pupils can take this work with them and continue to develop it as they begin their secondary school journey. This enables pupils to demonstrate their capabilities in their new environment, and can help ensure an effective and supportive transition.
Project overview
Pupils explore a range of stories and images from Tales from the Inner City, looking deeply into the book's purpose and form, and considering how the text and images work together.
Using both text and image, pupils keep a unique project scrapbook, creating their own body of work inspired by their relationship with nature and their wider thoughts about human impact on the environment.
Extract-based lesson ideas cover:
Exploring language
Using a poetry spine
Found poetry
Exploring illustration - drawing and collage
Flash fiction.
The unit also provides suggestions for sharing and celebrating pupils' work,. and lesson activities for the beginning of Year 7 that allow for continuation, but are equally accessible for pupils who have not been involved in the project in Year 6.
Download files
You might also be interested in