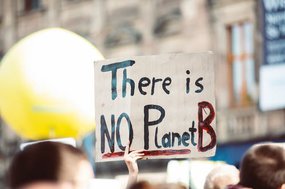 "I have learned you are never too small to make a difference."

Greta Thunberg
In December 2019, 17-year-old Greta Thunberg was the youngest person to be named as TIME magazine's person of the year. Greta has been instrumental in bringing the issue of the climate emergency into global focus and has engaged millions of children in participating in school strikes for climate.
This hot topic resource can be used to spark ideas for using the issue of climate change to engage children in the classroom. Suggestions can be adapted for pupils aged 7-14 across England, Wales and Scotland.
Using this resource in the classroom
Climate change offers a number of engaging and interactive opportunities to promote learning and literacy. This hot topic resource:
Recommends relevant age appropriate books to support reading skills. These books can be used as the basis of literacy lessons, for reading activities or as part of daily story time
Offers ideas for oracy activities, including debates about whether children should go on school strikes
Suggests purposeful writing activities such as letter writing
Download file
You might also be interested in