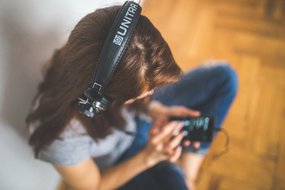 Following the launch of our Podcasts and literacy report, we have created two resources to help teachers and parents use podcasts to support children's literacy both in the classroom and at home.
For schools
Listening to podcasts can be a great way of getting children and young people interested and engaged in a range of topics.
Our research also shows that children and young people who listen to podcasts are more likely to enjoy reading for pleasure, so teachers can direct pupils to podcasts to encourage further reading around topics they are interested in or learning about in class, as well as promoting a love of storytelling.
Check out our guide to using podcasts in the classroom, which also has recommended podcasts for a range of subjects and key stages 1 to 4.
To find out more about young people's engagement with podcasts, we are running a follow-up survey for secondary and post-16 students. Participating schools receive a personalised report of their findings - sign up now.
For families
Podcasts are a great way for parents to enjoy listening and learning with children at home and are easy to fit into busy everyday lives. Plus, they're free, entertaining and informative!
We've highlighted some of the top podcasts to listen to as a family in this resource.
Available to download
Top tips for using podcasts in the classroom
Top tips for sharing podcasts as a family
Find out more about our podcast resources and programmes.
Download files