Writing for Wellbeing Clubs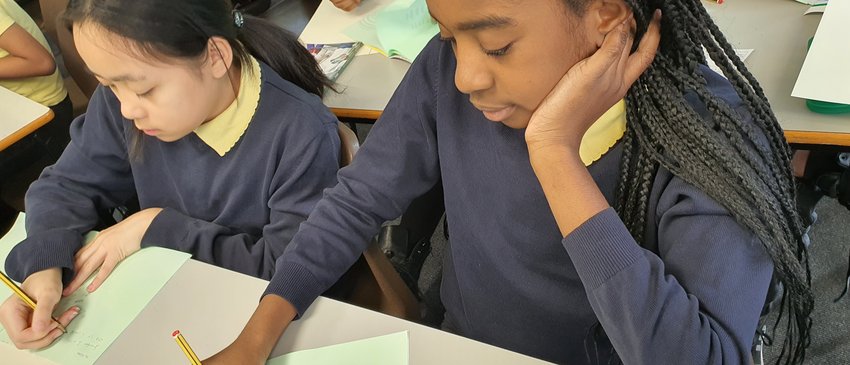 A poetry-based programme supporting schools to explore writing as a therapeutic, self-sustaining, and low-cost tool to promote the wellbeing of their young people.
The Programme
Our research on mental wellbeing, reading and writing shows that how good children and young people perceive themselves as writers and how often they write something in their free time are linked to their general mental wellbeing. We found that children and young people who enjoyed writing very much and who thought positively about writing had, on average, higher mental-wellbeing scores than their peers who didn't enjoy writing at all and who held negative attitudes towards writing. Notably, 1 in 3 (32.8%) children and young people told us that writing helps them relax.
Based on these findings, we designed a programme in collaboration with counsellor and poetry therapist Charmaine Pollard, aimed at exploring and developing therapeutic writing practices in school. Fully trained professional poets deliver a four-week writing club in school that culminates with the publication of a zine to celebrate everyone's journey.
"It was an excellent idea, much needed in our school. It offered pupils a chance to explore a style of writing that they otherwise do not get to experience. We saw huge growth in the confidence of some attendees, both inside and outside of the sessions."

Participating Teacher
Who we work with
This project is aimed at students in Years 6 to 9 from state schools with over 22.5% of pupils receiving free school meals in the following areas:
Birmingham
Bradford
Halifax
Kirklees
London
Manchester
A writing for wellbeing club led by an allocated professional poet

Four sessions for one class across four weeks. The professional writers we work with undergo writing for therapeutic purposes and safeguarding training.

A writing for wellbeing pack

Including a teacher-facing resource, paper packs, pens and a wellbeing notebook for each participating student.

Publishing opportunities

A chance for students to be published in a celebratory zine.
'I saw that by the end of the sessions, children had found their own individual ways of expressing themselves through writing, collage and verbal methods. They were really passionate about doing this. This showed a progression in their creativity which will be great for their writing.'

Participating Teacher