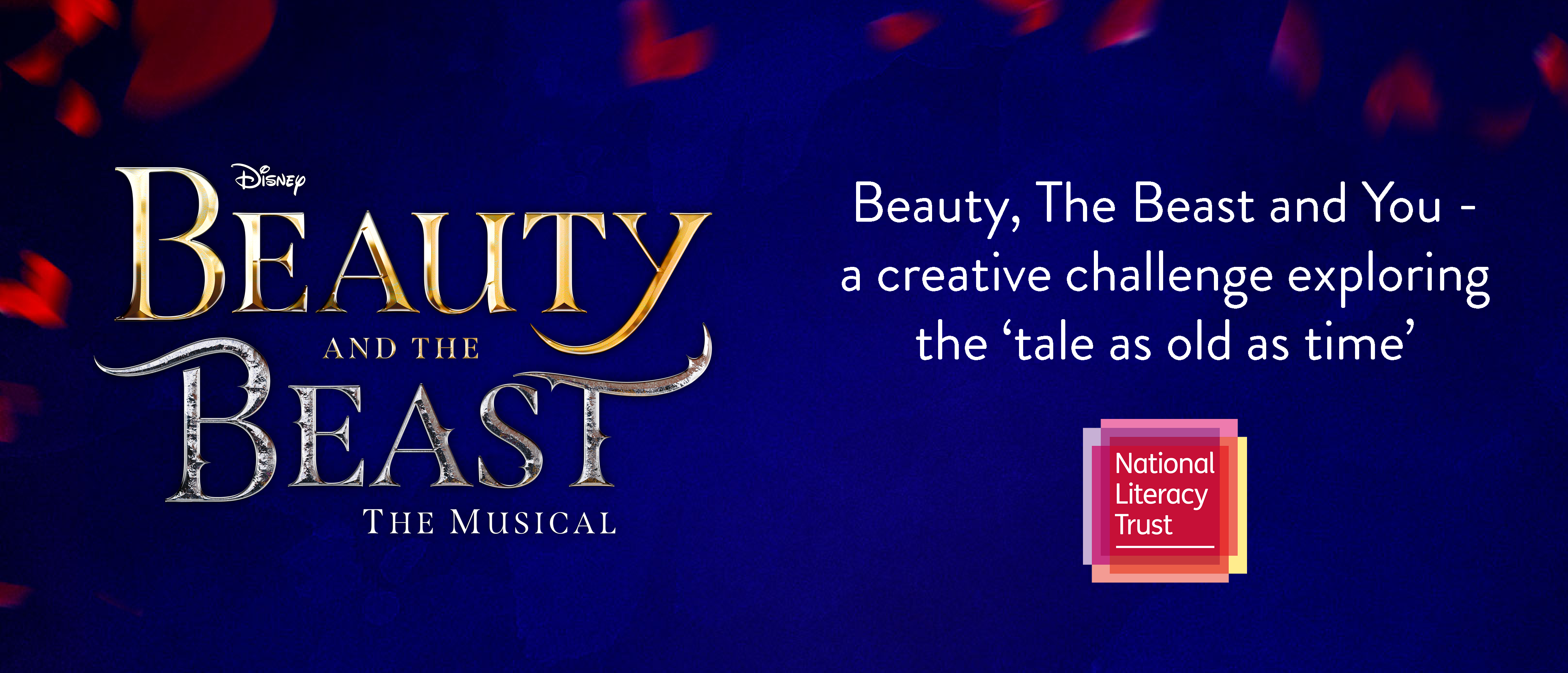 We've just launched an exciting new reading challenge for pupils across the country in partnership with Disney Theatrical Productions.
The reading challenge, designed for 7-14 year olds, is called Beauty, the Beast and You - a creative challenge exploring the 'tale as old as time' and is aligned with the Disney Beauty and the Beast - The Musical stage tour.
Teachers are invited to immerse their pupils in the oldest of all fairy tales by bringing to life - in the classroom - the main characters from Beauty and the Beast – Belle, the Beast and Maurice – all featured in books and on stage. The reading challenge encourages students to analyse, interpret and be inspired by Beauty and the Beast's three principal characters. To get started, schools can access full instructions and helpful supporting resources on our website.
How to enter the Beauty, the Beast and You reading challenge
Key Stage 2 students are asked to:
Create an illustrative wall display of their understanding and interpretations of this famous tale as well as discuss other stories of similar impact within a curriculum-led framework.
Key Stage 3 students are invited to:
Write and perform monologues and explore how Beauty and the Beast and other stories fall into classic archetypes of storytelling.
Great prizes are up for grabs in the shape of Beauty and the Beast stationery sets and tote bags. All teachers have to do to be in with a chance of winning these prizes is enter their school's work into a prize draw.
Key Stage 2 teachers are invited to send photos of their class's displays and Key Stage 3 teachers are encouraged to enter a list of book titles based on their discussions around the seven story archetypes in their version of the challenge.
All entries must be emailed to competitions@literacytrust.org.uk by 12 November.
"We can't wait to see what pupils come up with for this, our latest reading challenge. We'd like to thank Disney Theatrical Productions for their brilliant support, enabling us to work together to offer schools this fun challenge inspired by the much-loved tale of Beauty and the Beast. Good luck everyone, we can't wait to see your entries!"

Tim Judge, Head of School Programmes
Although entries for the prize draw must be received by 12 November, to be in with a chance of winning great prizes, the reading challenge is available all year round, and can be done at a time that suits schools. The aim of the challenge is to get children into reading for enjoyment and encourage positive reading habits in reluctant readers.
"We're excited to be working alongside the National Literacy Trust on this creative reading challenge. We strive to engage children in stories and storytelling, and we hope schools will get a lot of fun out of this Challenge as the re-imagined production of Beauty and the Beast heads out on tour."

Nancy Shakerley, Education Manager at Disney Theatrical Productions
The Disney Theatrical Productions' UK & Ireland tour has already started in Bristol, Liverpool, Edinburgh and Cardiff. Dates in other UK cities will be announced in the coming months.