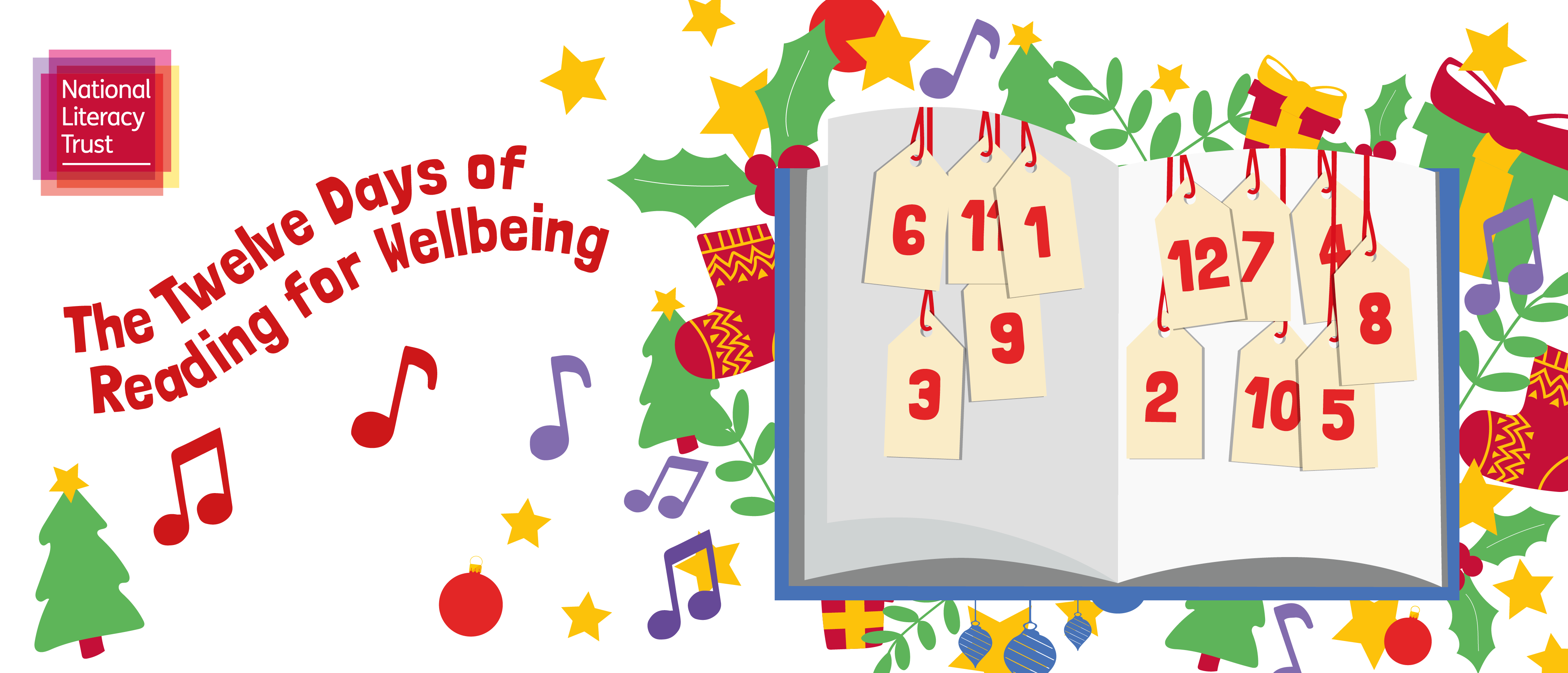 Get festive with our Christmas reading challenge
We all know The Twelve Days of Christmas but do you know about the Twelve Days of Reading for Wellbeing? No gold rings, no turtle doves and not even a partridge… but something much better!
This fun and seasonal Reading Champions challenge encourages schools to support the wellbeing of students and teachers as we head towards the end of a busy term (and year!). The challenge includes ideas of kindness and reading sitting side by side for the benefit of all and suggests new reading goals that reach into the wider community during the festive season.
Read on and enjoy thoughtful and fun literacy for everyone this Christmas time.
We're no longer inviting entries for The Twelve Days of Reading for Wellbeing reading challenge, which originally ran as a live challenge in 2021. However, the resources and information remain available for you to use for drawing inspiration and to run your own, in-school challenge adapted to the needs of your children and the time you have available.
More Christmas and winter resources
For more resources that link to Christmas and winter festive celebrations, visit our Winter Wonderland resources.
How to take part
The twelve days of reading-focused activities include:
One Reading Act of Kindness
Two books each
Three meals a day, read and share
Four ways to help the wellbeing of our planet at Christmas
Five minutes of reading and reaching out to others
Six emotions illustrated in a story
Seven wonders of your world
Eight books to enjoy for ages 5-14
Nine inspirational quotes
Ten minutes is all you need
Eleven words for kindness and wellbeing
Twelve Christmas cracker jokes to read and enjoy
Each day has its own separate file to download so that you can share with your class or with the whole school at assembly.
If you don't have enough time to complete or take part in this challenge today, then why not pick and choose some of the ideas or schedule some time later in the school year to take part. Reading at any time of year is important for health and happiness!
Teacher support
As well as thinking of students' wellbeing, it is just as important to the National Literacy Trust to help support teachers too. In partnership with Wesleyan, we launched a Teacher Wellbeing website. Created in response to the urgent need for support among overstretched and time-poor teachers, the free website features resources and advice from experts in order to inspire and assist.
With support from Wesleyan, we hope to give back to teachers after a tumultuous period during the pandemic, and help the education system recover from the ongoing effects of COVID-19. The Teacher Wellbeing platform is dedicated to supporting and improving all education professionals' mental wellbeing so please do take a look.
Wishing you all a Happy Christmas and the very best for the New Year!

National Literacy Trust Reading Champions is supported by ALCS.
Find out more about the National Reading Champions Quiz and Challenges.
Explore useful teaching resources developed by ALCS to support understanding and communication about copyright with guides for children, young people and teachers.
Available files