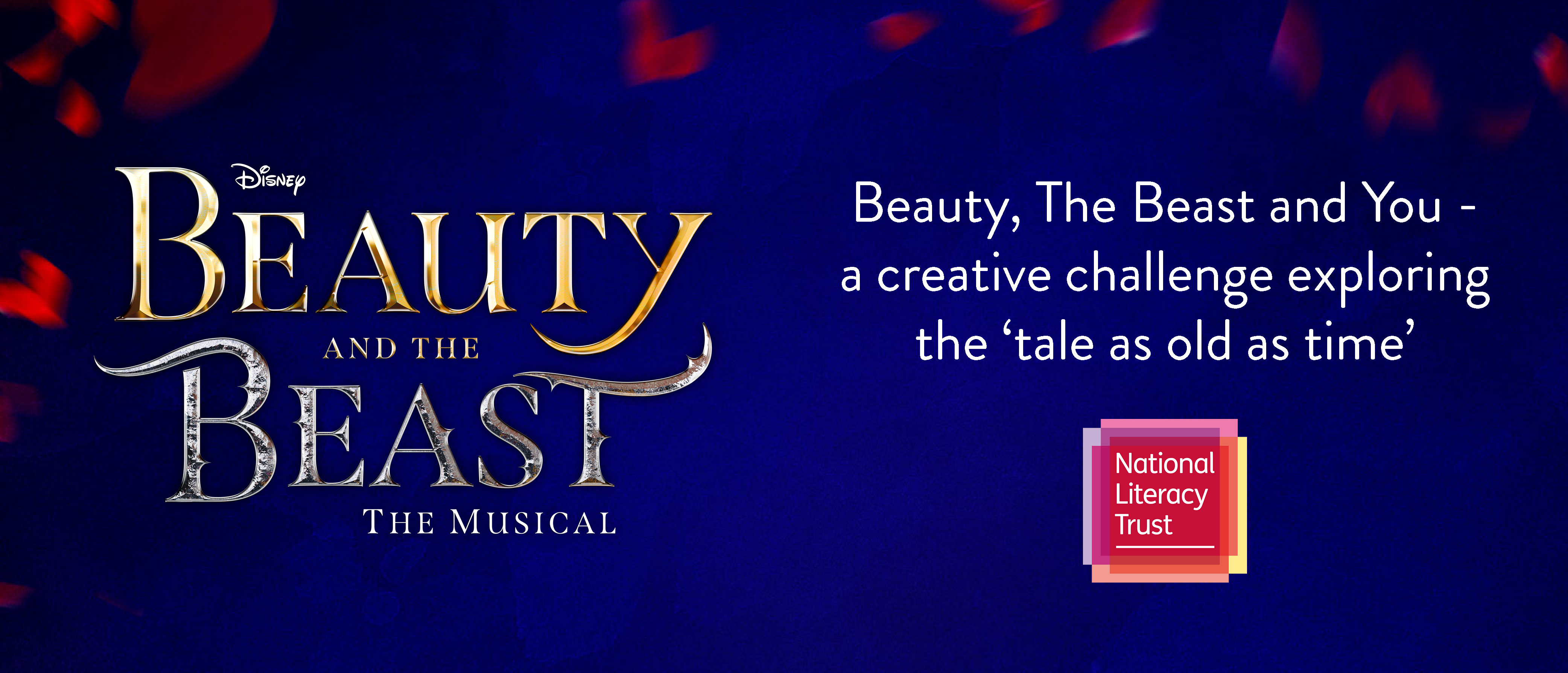 In this challenge we invite you to immerse your students in the oldest of all fairy tales, Beauty and the Beast, by bringing to life in your classroom the main characters from the book and Disney Theatrical stage show.
Run in partnership, and aligning with the Disney Beauty and the Beast - The Musical stage tour, the challenge is designed for students aged 7-14. The challenge guides your students as they explore key themes of innovation, empowerment through reading and the downfall of judging on appearances.
Entries for the challenge closed in Autumn 2021, but even though you can no longer submit entries, these resources are suitable for use at any time of the year to help you delve in to ideas of genre, characterisation and performance.
Ready to join the challenge?
We suggest you:
Download the teacher guidelines and read through the recommendations and details (see note below)
Explore all the resources including script extracts, character descriptions and teaching frameworks
Encourage class discussion on the various themes and characters in the story as well as the connection of fairy tales to modern day stories and books
Allow time in class for students to work on their challenge and, if allowed, encourage extension work to be completed at home (with input from family welcome!)
Celebrate everyone's contributions according to the age group you are teaching as outlined in the guidelines, such as by creating a wall display, a showcase of students' character monologues or designing a book list of titles created by the class
NOTE: You'll need to be logged in to your National Literacy Trust membership account or to sign up for a free, personal membership account to download resources.
The prize draw element of this challenge ended on 12 November 2021. However, we're delighted to be able to keep the resources available for you to access throughout the year and use at a time that suits you.
---
Our partners
Disney on Stage offers a range of creative resources designed to enhance any theatre trip. Each of our West End and touring productions is supported by an education programme, developed closely with teachers and educators. We are committed to:
Supporting schools to engage with live theatre by unlocking its learning potential
Nurturing future audiences and industry professionals
Providing theatre opportunities for under-resourced schools
More information can be found at www.disneyonstage.co.uk
---

National Literacy Trust Reading Champions is supported by ALCS.
Find out more about the National Reading Champions Quiz and Challenges.
Explore useful teaching resources developed by ALCS to support understanding and communication about copyright with guides for children, young people and teachers. Watch this ALCS animation as a great starting point to helping your students understand copyright in a fun and interactive way.
Have your say!
Please take five minutes to complete our online survey about this challenge. Your feedback is important to us and it will help us shape these challenges in the future.
Available files