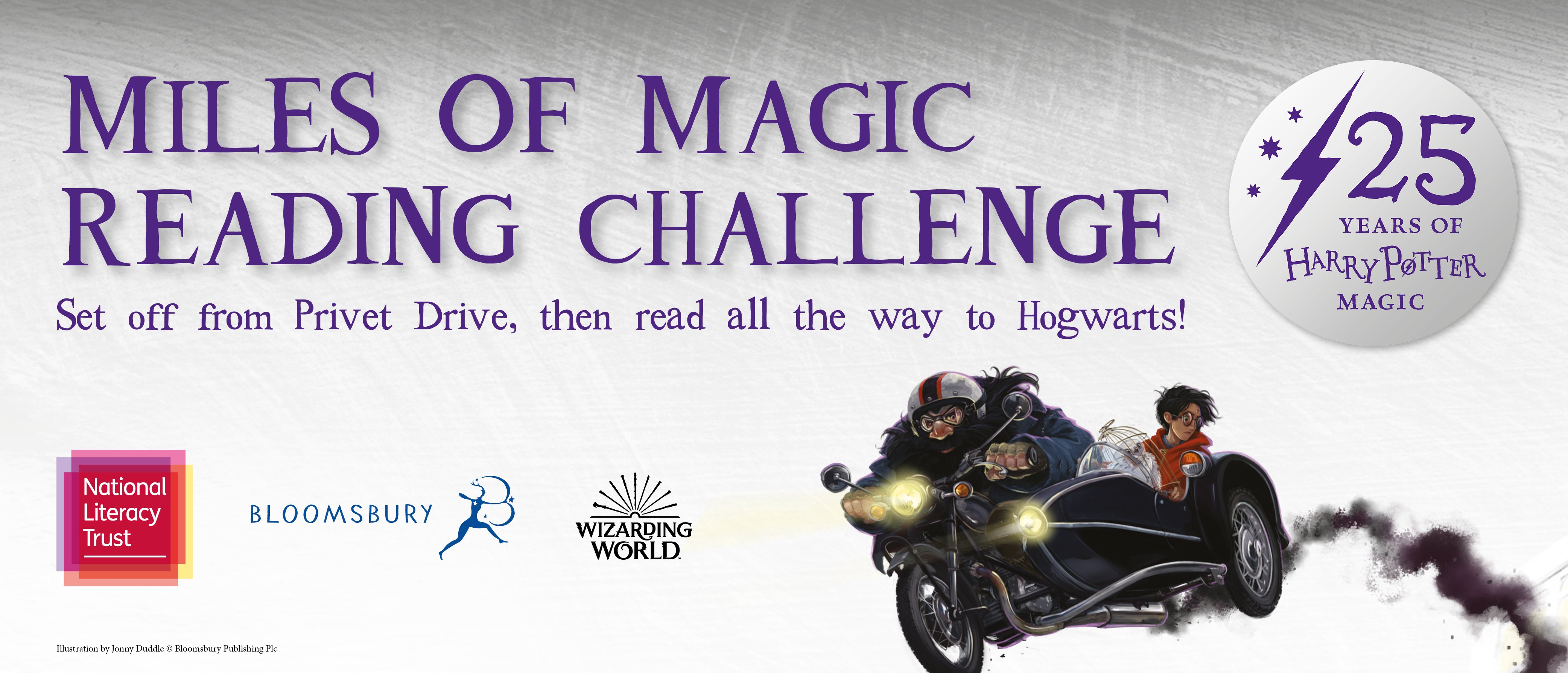 Harry Potter and the Philosopher's Stone celebrates 25 years in print this year and our fun reading challenge with beautiful resources encourages the next generation of readers on their own magical reading journey.
The National Literacy Trust are delighted to partner with publisher Bloomsbury to celebrate this milestone birthday so please join us for Miles of Magic, a reading for pleasure challenge that tasks students aged 5-14 years, to set out from Privet Drive and read regularly to reach Hogwarts via some special places along the way!
The resources, with stunning artwork from Jonny Duddle and Jim Kay, will inspire and support your students on their Miles of Magic journey and encourage a reading for pleasure culture within your school.
Taking part in the challenge
Ready to download and use in the classroom are:
Set of teacher guidelines
Class wall chart
Reading logs
Set of class crests
Quiz of 25 questions including question sheet and answer sheet
Bookmarks
A video of Jonny Duddle creating his Harry Potter characters
We recommend you first take a look at the Teacher Guidelines which outline the challenge in full and explain how you can use the resources provided. Secondly, download and print out all the various materials you want to use with your class. Ideally each student should be provided with a reading log to fill in, and a crest to pin to the class wall chart so that they can watch their reading miles increase throughout the challenge.
The challenge is available for seven weeks of this term, opening on Thursday 3 February (Harry Potter Book Night!) and closing on Friday 1 April. (Why not run the Harry Potter and the Philosopher's Stone Quiz to see which popular characters were born on this date? Older and younger readers will enjoy this quiz, guaranteed!)
Illustration video
Watch Jonny Duddle, the illustrator of this year's silver anniversary edition of Harry Potter and the Philosopher's Stone, talk about how he created his iconic cover and let your students see their favourite Harry Potter characters come to life. You can even draw along with Jonny to create your own Hagrid! The video includes British Sign Language interpretation.
Prize draw
If you have completed this challenge in your school by Friday 1 April 2022, you are invited to take a photo of either the wall chart showing all the class reading journeys or a student's reading log as nominated by the class and send it in with the name of your school to competitions@literacytrust.org.uk.
You will be entered into a prize draw to win a box of Harry Potter books and goodies for your school, courtesy of Bloomsbury! The winner will be announced in June.
You are, of course, welcome to complete the challenge without entering the prize draw. You can plan it for a different time frame that suits you and we'll keep the resources available for you to access throughout the year.

National Literacy Trust Reading Champions is supported by ALCS.
Find out more about the National Reading Champions Quiz and Challenges.
Explore useful teaching resources developed by ALCS to support understanding and communication about copyright with guides for children, young people and teachers.
Available files