Our Miles of Magic Reading Challenge, celebrating 25 years of Harry Potter and the Philosopher's Stone, has been a huge success with students across the UK reading more than 2.5 million magical minutes in total!
We invited teachers to send us a photograph of their school's completed reading challenge as entry to a prize draw and to be in with the chance of winning a box of Harry Potter goodies for their school.
We are delighted to congratulate our winning school, Atlantic Academy Portland in Dorset. With a wonderful display, pictured above, of Miles of Magic class posters which the whole school contributed to, Atlantic Academy Portland is a worthy winner of the prize, kindly donated by our publishing partner for this reading challenge, Bloomsbury Publishing.
Miles of Magic is a reading for pleasure challenge that tasks students aged 5-14 years to set out from Privet Drive and read regularly to reach Hogwarts via some special places along the way. The free downloadable resources include stunning artwork from Jonny Duddle and Jim Kay, inspire and support students on their Miles of Magic journey and encourage a wider reading culture within school. With a glorious class wallchart to showcase each student's reading journey and a reading log to complete, every student can participate and feel proud of their contribution.
Jayne Cornell, Primary English Lead, Atlantic Academy Portland said:
"The children will be absolutely thrilled to hear we have won the Miles of Magic Reading Challenge! Since the pandemic, I wanted to do more to really embed reading for pleasure within our school culture and provide our children with new opportunities to fall in love with reading. We felt the reading challenge would be a great way to encourage all our children to read for pleasure and visit our new library space.
"After launching the competition, we have seen such a positive impact on our children's enthusiasm for reading. It was wonderful to hear the children talking so positively about the competition either in class, in the corridors, the dining hall and in the playground. Everyone wanted to get to Hogwarts!
"Being involved in this competition provided the stepping stones for some of our reluctant readers to participate, talk about and enjoy reading with their peers. It is clear that the competition has had a positive impact on reading for pleasure at our school and we cannot wait to join in with future reading competitions and make it a more permanent part of our school culture."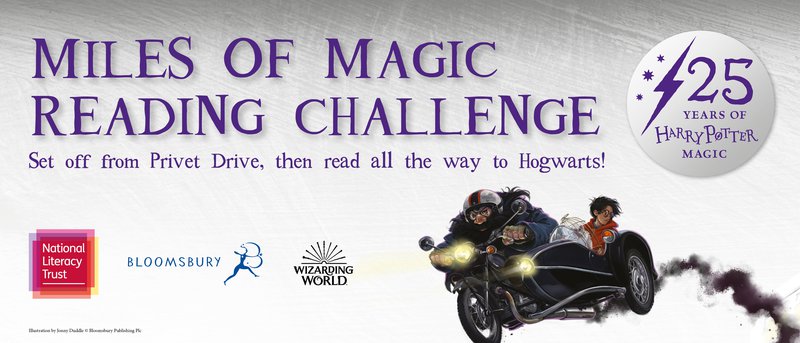 We received fantastic feedback from teachers on this challenge, explaining how students of all different ages have been enjoying the challenge, and how students have taken great pride and enjoyment in their magical reading journeys.
We know from our research that children who enjoy reading are three times more likely to read above the level expected for their age as those who don't enjoy reading, and it can also support their wellbeing and help them do better in a range of subjects at school, so it's really important to encourage children to read for fun.
If you are feeling inspired to take up the Miles of Magic Challenge with your school, you can do so at any time. All of our Reading Challenges will be hosted on our website and can be accessed throughout the year. Look out for previous and future Reading Champions Challenges here.
---

We established the Reading Champions Challenges with Authors' Licensing and Collecting Society (ALCS) to help support whole-school literacy and help teachers encourage a culture of reading for pleasure in their classrooms.
Further useful teaching resources around copyright from ALCS:
---