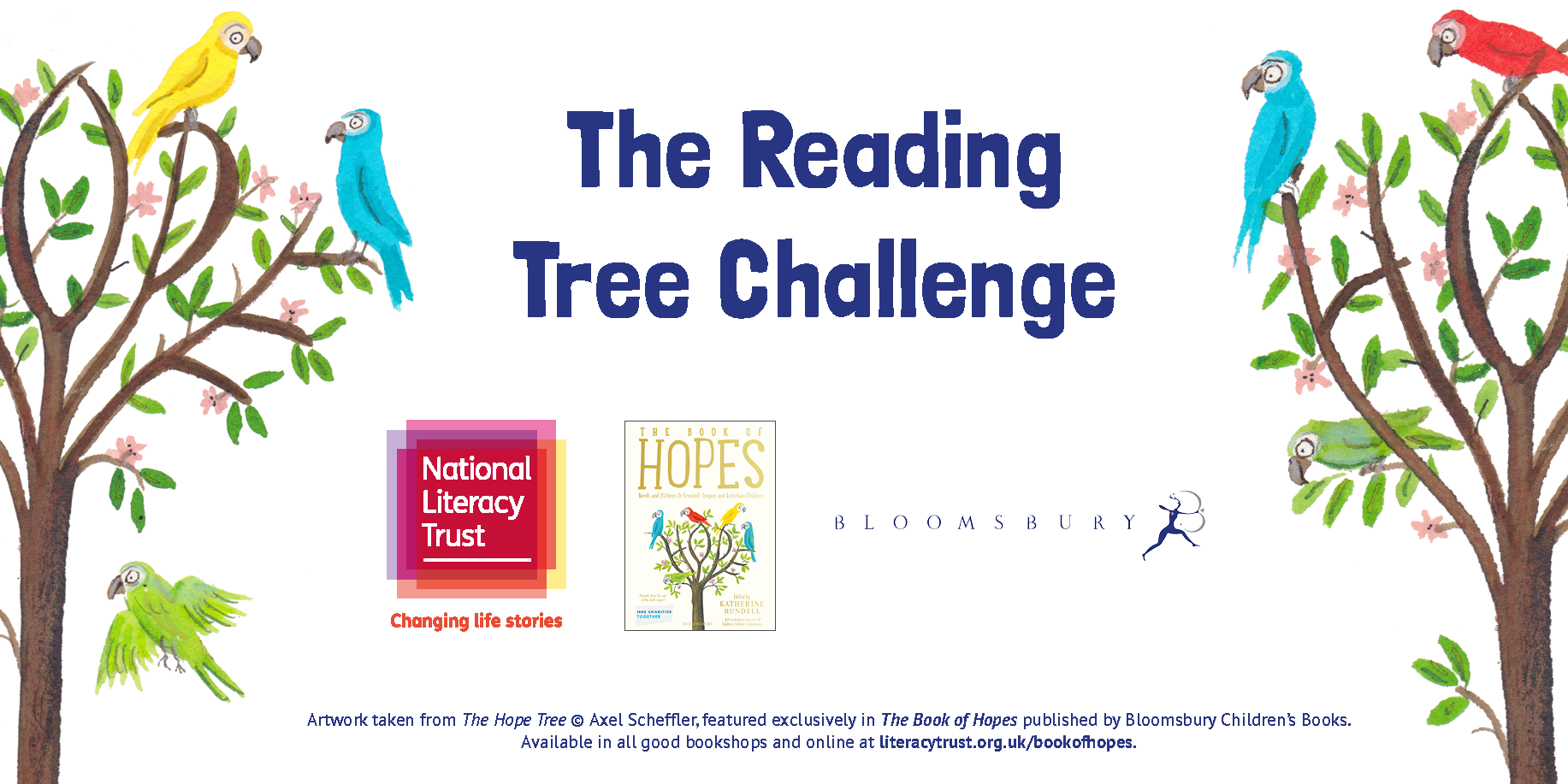 This year, we are delighted to launch a series of incredible Reading Challenges to support whole-school literacy and help teachers encourage a culture of reading for pleasure in their classrooms.
We know from our research that children who enjoy reading are three times more likely to read above the level expected for their age as those who don't enjoy reading, and it can also support their wellbeing and help them do better in a range of subjects at school, so it's really important to encourage children to read for fun.
Every term, we will be offering different fun Reading Challenges, complete with free resources, to get pupils in Key Stages 1, 2 and 3 excited about reading and sharing stories they're interested in - whatever they may be!
This challenge is based on illustrator Axel Scheffler's brilliant artwork from The Hope Tree, featured exclusively in The Book of Hopes – a collection of more than 100 inspiring stories, poems and illustrations edited by Katherine Rundell and published by Bloomsbury Children's Books.
Teachers can download a suite of free resources for the challenge, including A3 and A4 posters of The Hope Tree, templates of leaves for pupils to fill in and guidance notes.
For this challenge, pupils are encouraged to write the name of a book they have read on a blank leaf, rate it out of five stars and add it to the bare branches of The Hope Tree, giving pupils the chance to showcase and celebrate all the stories they have been exploring while watching the tree grow.
Teachers have the option of displaying an A3 tree poster in their classroom for every pupil to add their leaves to, give each child their own A4 tree poster to fill with lots of their own leaves throughout the term or school year, or even use a larger leaf template to display pupils' book recommendations all around the school.
What's more, the first 50 schools to register for The Reading Tree Challenge will receive a free printed pack of resources! Register here
If this challenge is completed by Friday 27 November 2020, teachers are invited to send a photo of their pupils' work, including the name of their school and class, to competitions@literacytrust.org.uk. All entries will then be submitted into a prize draw for the chance to win a box of great books for their school!
Of course, schools are welcome to complete the challenge without entering the prize draw at any stage throughout the academic year. All of our Reading Challenges will be hosted on our website and can be accessed throughout the year.
Challenge accepted?
Let's go!