The Reading Tree Challenge, our first school Reading Champions Challenge for this academic year, was a huge success and the winning school from our prize draw has been revealed!
We established The Reading Champions Challenges with Authors' Licensing and Collecting Society (ALCS) to help support whole-school literacy and help teachers encourage a culture of reading for pleasure in their classrooms.
We know from our research that children who enjoy reading are three times more likely to read above the level expected for their age as those who don't enjoy reading, and it can also support their wellbeing and help them do better in a range of subjects at school, so it's really important to encourage children to read for fun.
The Reading Tree Challenge was based on illustrator Axel Scheffler's brilliant artwork from The Hope Tree, featured exclusively in The Book of Hopes – a collection of more than 100 inspiring stories, poems and illustrations edited by Katherine Rundell and published by Bloomsbury Children's Books.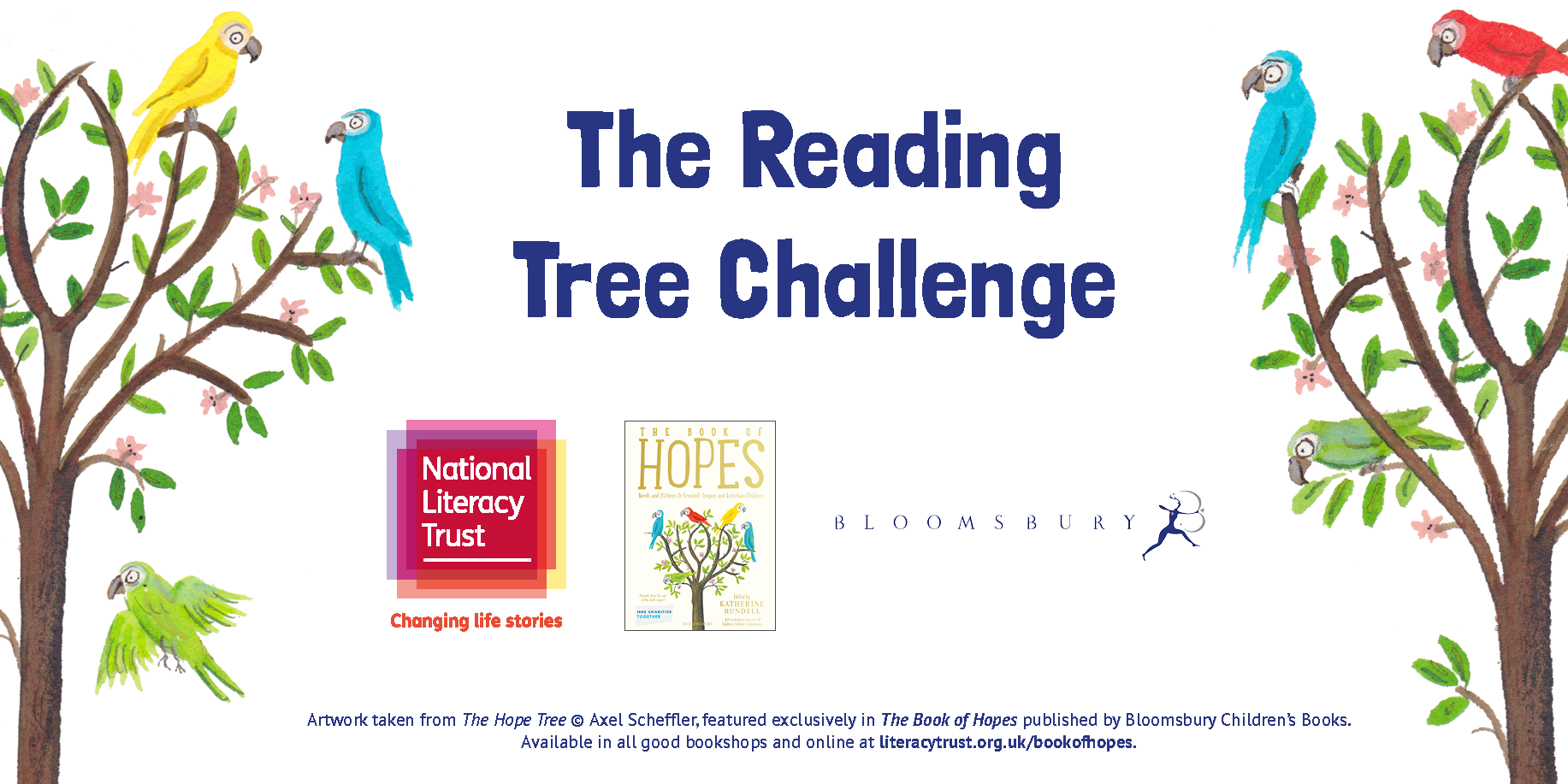 For this challenge, pupils were encouraged to write the name of a book they have read on a blank leaf, rate it out of five stars and add it to the bare branches of The Hope Tree, giving pupils the chance to showcase and celebrate all the stories they have been exploring while watching the tree grow.
We invited teachers to send us a photograph of their school's Reading Tree to be entered into a prize draw and be in with the chance of winning a box of fantastic books for their school! We are delighted to reveal that St Joseph's Catholic Primary School in Washington, Tyne and Wear, has been named the winner. Their Reading Tree is pictured above – a wonderful display which the whole school contributed to!
We started the challenge as we love to give our children a purpose in reading and writing. Due to lockdown, we are aware that many of our children have not been reading as much as they would have done if they had been in school. We have therefore placed an even bigger focus on reading in school and at home and were thrilled at the number of children who were able to talk about their favourite books. The children enjoyed talking to each other about which books they have read and are looking forward to adding more book reviews to the tree.

Fern Lawton, Year 1 teacher at St Joseph's Primary School in Washington
We received fantastic feedback from teachers on this challenge, explaining how pupils of all different ages have been enjoying the challenge, how it's been a wonderful way to unite the school through a love of reading, how pupils have taken great pride in creating their tree, and even that some schools are planning to continue growing their trees!
If you are feeling inspired to take up the Reading Tree Challenge with your school, you can do so at any time. All of our Reading Challenges will be hosted on our website and can be accessed throughout the year. Look out for future Reading Champions Challenges here: https://literacytrust.org.uk/competitions/
Check out the gallery below to see what schools across the UK have created:

Further useful teaching resources around copyright from ALCS: