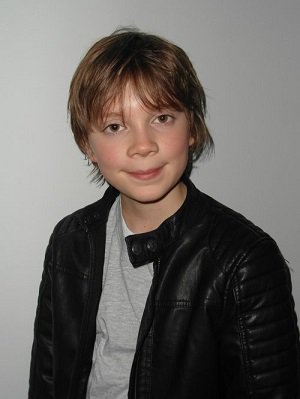 10-year-old Daniel Stockwell from Leicestershire has won the prestigious Jacqueline Wilson Creative Writing Prize for 2017 with his letter, Woof from Antarctica. The competition was judged by Jacqueline Wilson herself, alongside our very own Fiona Evans and representatives from Penguin Random House, WHSmith and First News.
Children aged 7-12 from across the UK and Ireland were asked to write a fictional letter to someone who lives far away, in keeping with the theme of Jacqueline Wilson's book, Wave Me Goodbye, featuring child evacuees in World War II.
Daniel beat stiff competition from 2,000 children with his highly original, imaginative and extremely well-written letter, which featured a boy writing to his dog from Antarctica. You can read Daniel's fantastic letter on Jacqueline Wilson's website. 
Daniel has not only won the chance to meet Jacqueline Wilson, who he says is an "awesome writer", but his award-winning letter will also be published in an exclusive WHSmith edition of her book, Wave Me Goodbye (available from 8 February 2018). What's more, Daniel takes home £100 worth of books and a year's subscription to First News, as well as a bundle of Jacqueline Wilson books for his school.
Daniel said: "I feel thrilled and excited to win the competition. Over the summer holiday I became totally engrossed researching and writing this letter and I'm really happy that other people find it interesting too. I got the idea for the letter when I was looking up how to help a tired bee and I found out that the only place on Earth where bees are not found is Antarctica. I then started reading about Antarctica and thought that a place so different from everywhere else on Earth would be a great setting for my letter. I can't believe that Jacqueline Wilson likes it, she's such an awesome writer."

Fiona Evans, our Head of Schools Programmes, said: "We know that letter writers are better writers, and this is something that children from across the UK showed us in abundance with their incredible competition entries. It was so hard to choose just one winner but Daniel's funny, creative and informative letter to his dog really captured our imaginations. Writing letters really helps to build children's confidence and aspirations, so we hope Daniel's letter inspires more children to pick up their pens and start their own letter writing journeys!"
"I was so pleased that lots of children wanted to enter this year's Creative Writing Prize and I so enjoyed taking part in the judging process. Daniel's letter shone out from the other entries as it was truly original and he is a worthy winner."

Jacqueline Wilson