Write your own NOTTINGHAM acrostic poem!
We're challenging Nottingham's young people (aged 4-18) to write an acrostic poem about the city they live in.
Every entry will receive a book, with extra prizes also up for grabs for our favourite entries!
COMPETITION NOW CLOSED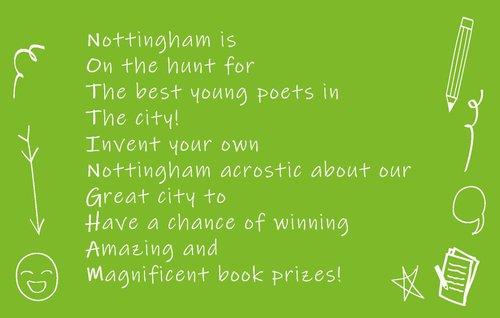 What is an acrostic poem?
An acrostic is a poem where the first letter of each line spells out a word – for your entry, this should be 'NOTTINGHAM'!
Your poem doesn't have to rhyme and each line can be any length you like.
Theme your poem around Nottingham - what do you love about the city? What do you get up to here? You could tell us about the amazing people that live in Nottingham and the things you can do!
Check out the examples and videos below for more help on how to write your acrostic.
The prizes!
Every entry sent to us by the challenge deadline (Thursday 22 April 2021) will receive a free book as a reward for entering!*
Our favourite entries in each age group will also receive a bundle of books too! The age categories are 4-7, 8-11, 12-14 and 15-18.
How to enter
The competition is open to young people aged 4 to 18 and living in Nottingham City.
Take a picture of your entry or type it up and send to us by Thursday 22 April 2021. You can send by:
Be sure to include a parent/carer's name plus the writer's name, age and address (to receive your free book).
How to write acrostic poetry with Matt Windle
Watch Matt Windle's video workshop. In this video, you'll get to know acrostic poetry, learning about its rich history and features, before trying your hand Matt's acrostic writing challenges.

Check out BBC Bitesize for more tips on writing acrostic poetry.
Like our Read on Nottingham Facebook page for tips, videos and inspiration!

---

* Terms and conditions apply. Book prizes will be sent to every entry sent before the competition deadline - while stocks last. No more than one entry per person. Entries must provide a postal address to receive their book. A winner from each age group (ages 4-7, 8-11, 12-14 and 15-18) will be chosen to receive further books. Only children and young people aged 4-18 and living in Nottingham City can enter the competition. Competition closes Thursday 22 April 2021.