Today, several top children's authors, TV presenters and sporting stars are helping us launch our fundraising campaign, the #FitforLit Challenge.
The challenge encourages everyone to take on a sporting task of their choice and add a literacy twist - from doing keepy uppies while balancing a book on your head to telling a funny story while skipping – share it on social media, make a donation and nominate friends to join in too.
For more than 20 years, the National Literacy Trust has used the power of sport to motivate more than one million children to improve their literacy skills. We are now channelling the passion and excitement surrounding sport into a new fundraising campaign to help improve the literacy and learning of disadvantaged children who have been most seriously impacted by COVID-19.
Launching the fundraising campaign in spectacular style is a dream team of TV stars, sports stars and top children's authors who will be sharing their challenges on their social media channels:
If you're feeling up to the challenge, here's how you can get involved and help us support the children who need our help most:
Take on a sporting challenge of your choice with a literary twist – you can find some brilliant ideas and inspiration here
Upload your photos or video to social media using the hashtag #FitforLit and tag @Literacy_Trust
Donate £3 by texting FITFORLIT to 70085 (text costs £3 + a standard rate message)
Nominate three friends to take on the challenge
All money raised from the #FitforLit Challenge will help the National Literacy Trust level the playing field for disadvantaged children by funding books, resources and programmes that will help them catch up with their literacy and learning when they return to school in September.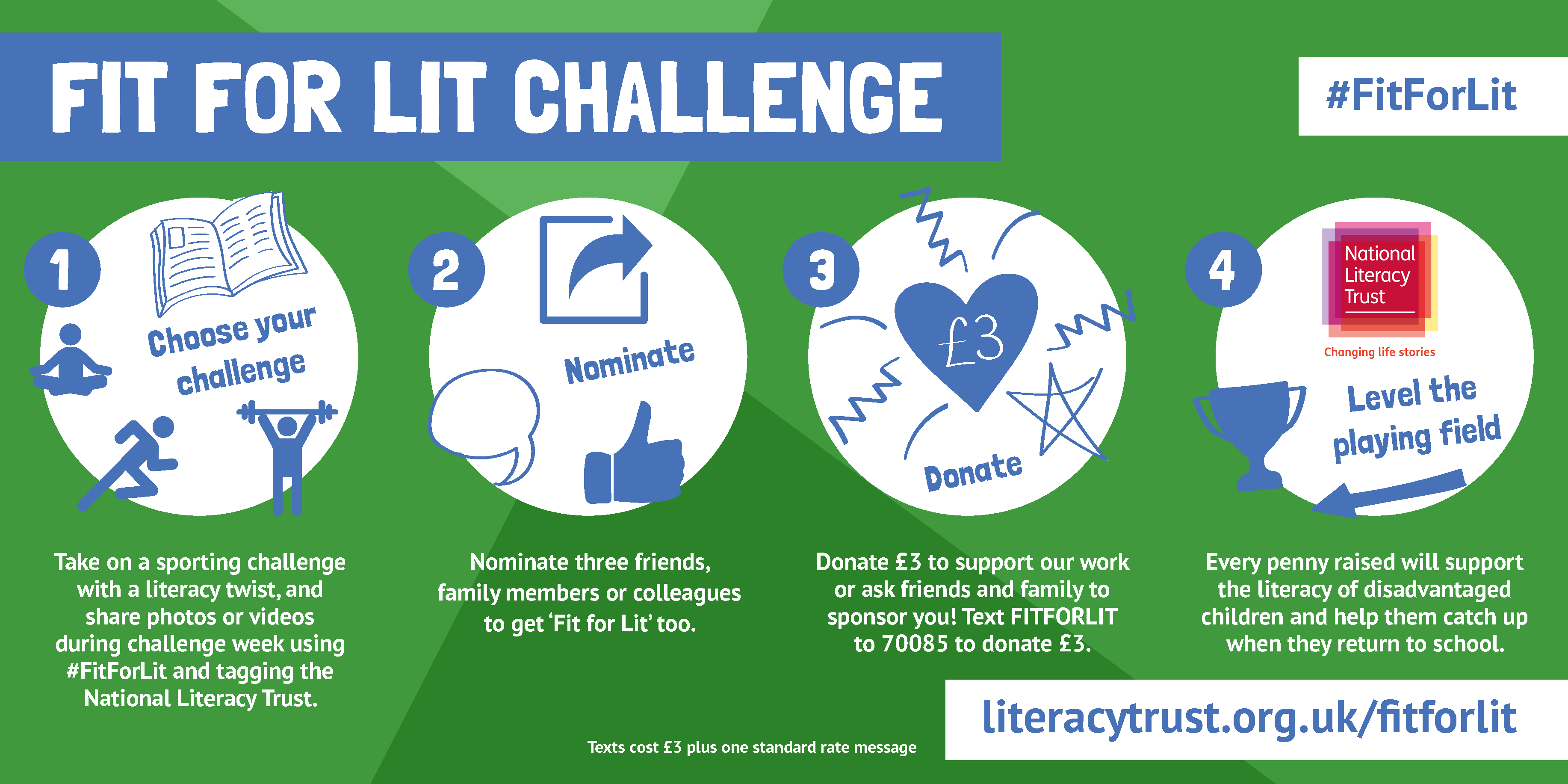 Not only does sport bring people together, teach us important values and boost our physical health, it also has the power to transform children's outcomes in the classroom. I've seen first-hand how sport can inspire even the most reluctant children to get reading and writing. So after such a significant disruption to children's literacy and learning as a result of COVID-19, we must do everything we can to level the playing field for those who have fallen furthest behind. Our #FitforLit Challenge is simple, fun and can change a child's life story – so let's follow in the footsteps of our dream team of children's authors and TV stars to get #FitforLit!

Jim Sells, Sport and Literacy Programme Manager