Shooting Stars
We're inspiring young girls to get active and learn about football through the magic of storytelling.
Unlock your pupils' imaginations with the magic of Disney-inspired Shooting Stars. A primary school programme for girls, they are challenged to unlock their inner superhero.
It's really easy to get involved with the launch of our new on-demand training. Complete it at a time and speed that suits you and bring the magic of Disney to your school this year!
Get started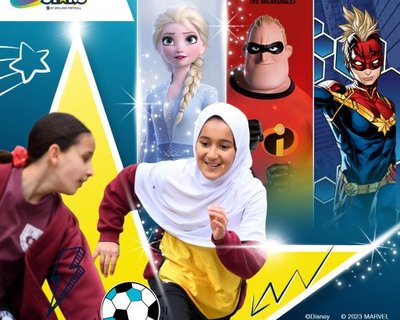 About the programme
Shooting Stars is a programme created in partnership with the FA, Disney and the Youth Sport Trust.
Active Play Through Storytelling (for Key Stage 1), uses specially adapted Disney stories, including The Incredibles and Frozen, to lead girls through a series of physical activities and challenges. Sessions are based on the KS1 English and PE curriculum and help girls aged 5 to 8 improve their physical, speaking and listening skills.
Benefits
The pilot phase of the programme found that it helped the girls taking part to:
Get active

Parents and teachers reported that the sessions were physically tiring, and that the girls enjoyed rising to the challenge each week.

Improve their communication and teamwork skills

The programme gave them the opportunity to work with friends as well as girls outside of their friendship group.

Get better at football

Coaches reported improvements in the girls' technical skills week-on-week.

Be more confident

Girls self-reported an improvement in their confidence levels.