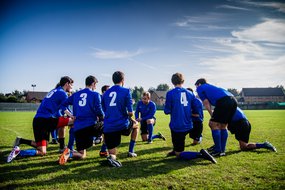 The role of literacy in PE
Traditionally, Physical Education has not been a subject that highlights literacy, apart from speaking and listening and vocabulary. However, in the current GCSE and BTEC specifications for PE and Sport Science, the reading and writing demands of the subject have expanded, and teachers of secondary students need to develop new approaches to embedding literacy into their subject planning.
Literacy in PE teaching resource
Our newly revised resource has been written for PE teachers and literacy coordinators as they support students to develop discipline-specific literacy skills. The resource will:
Provide guidance on the text types and language features that students will need to identify

Examine the role of speaking and listening in PE, and the importance of using subject-specific vocabulary 

Consider reading skills for comprehension and interpretation that will enable students to understand and analyse exam questions

Address writing skills for the formal, academic language and provision of precise detail and explanation needed in assessed written work
It includes a vocabulary focus on subject-specific and academic terminology, and a sample writing task that exemplifies how literacy skills can be integrated into PE and sport science learning.
In addition, in partnership with a Literacy for Learning associate consultant, we have a Physical Education reciprocal reading exercise that supports wider academic reading and engages students with text features and analysis within the subject area.
Developing literacy in physical education CPD
If you are a teacher or coach of physical education, or a school literacy lead seeking to support colleagues in these roles, then please take a look at our new Developing literacy in physical education CPD training.
Held over two 90-minute sessions the course introduces teachers to both theory and practice of disciplinary literacy in physical education or sports science.
Why disciplinary literacy?
Disciplinary literacy emphasises ways of knowing and communicating knowledge within a subject discipline.
It helps students understand how language works in different subject areas and supports their understanding of how vocabulary is used, how question phrasing will shape the answer expected, and how to interpret the written and graphic materials used for learning.
Our secondary Literacy for Learning team works with teachers and literacy leaders to develop a range of approaches to support reading, writing, speaking and listening across the curriuculum.
Explore our range of secondary CPD training
Download files
You might also be interested in