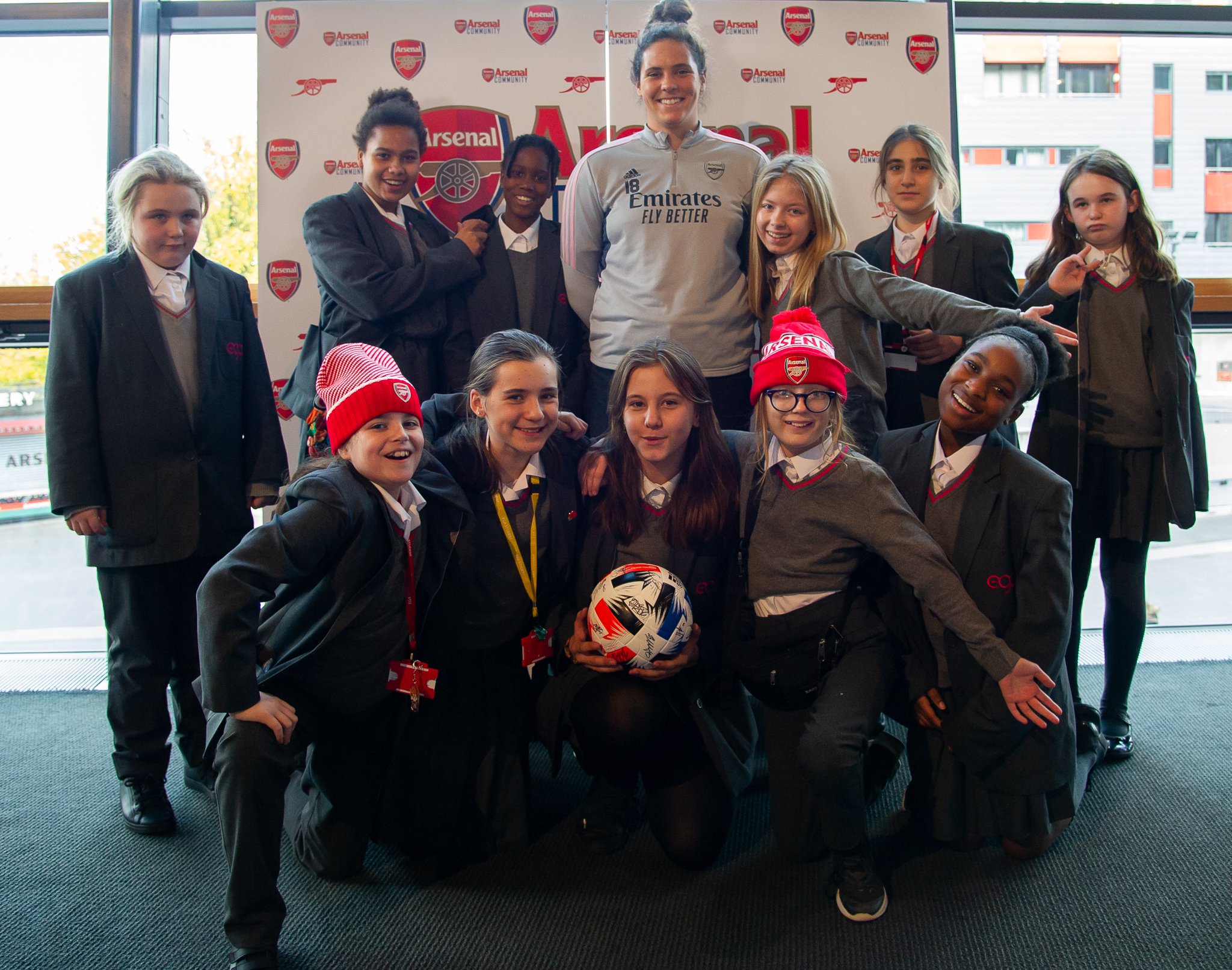 Inspired by the football World Cup 2022, eight Islington schools were invited to be football journalists at the Arsenal Hub media studio - in an exciting partnership between Get Islington Reading, the National Literacy Trust and Arsenal in the Community.
Nearly 200 lucky pupils reported on matches played during the football World Cup, last week.
During the day, Islington schools got an exclusive tour of the stadium and press conference room, and learnt about the role of the media at the professional football club.
Classes were put through their paces as they watched highlights from the World Cup and Women's Champions League, discussed the content, live tweeted the highlights and produced a match report to real-time deadlines.
Thirty students were given the opportunity to interview Arsenal Women First-Team Goalkeeper Kaylan Marckese around her football career, matches that she had played and advice for students to progress within football.
To build on the excitement of the World Cup, school children were also gifted books including titles about how to unlock your power, tips to becoming a top player, and the biggest names in women's football.
The workshops used the appeal of football as a route to engage young fans in reading and writing for pleasure – particularly sports reporting and journalism.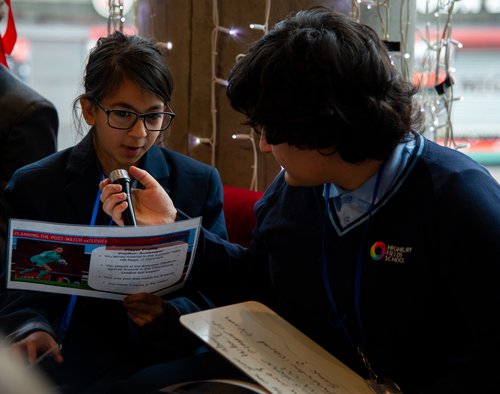 Using resources from the News Wise programme, in partnership with the National Literacy Trust, Guardian Foundation and PSHE Association, schools were equipped with activities to learn about roles in the news room, interview techniques and other oracy and writing skills needed for careers in sports journalism.
This activity is supported by Get Islington Reading and the National Literacy Trust. It forms part of the charity's Sport & Literacy projects which use the power of football to inspire and engage children with reading and writing.
Over 30,000 school children across the UK took part in a National Literacy Trust live event World Cup 2022 Reading Challenge where they battled it out pitching their favourite reads against other schools on Friday 18 November.
Furthermore, all schools who complete the Reading Challenge wallchart in the classroom by Wednesday 21 December can enter into our prize draw to win a box of great books, carefully chosen by the National Literacy Trust.
The National Literacy Trust and the Premier League have previously developed Premier League Reading Stars, an intervention aimed at reluctant readers.
It comes as research shows that almost half of boys (45.8%) and just over 1 in 8 girls (13.2%) say they look up to a footballer. By drawing on this powerful appeal, Get Islington Reading has been able to make reading and writing accessible for those who may not always enjoy it at school.
Kaylan Marckese, Goalkeeper for Arsenal Women, said: "I really enjoyed attending the Get Islington Reading events that Arsenal in the Community delivered with National Literacy Trust. A particular highlight was being interviewed by the students. It was great to meet the schools and the students who took part in a variety of football and media activities to help them develop their literacy skills which are so important for their future.
Jasmine Tucker, Project Manager of Get Islington Reading, said: "We know that football is a fantastic way to reach children and we can engage them with reading and literacy through their love of sport. Get Islington Reading are thrilled to be partnering with Arsenal in the Community to deliver these workshops with Islington schools.
"Focusing on skills that are vital for communications and media roles, these workshops will bring reading, writing and listening to life in a very real-world, applicable way. The young people have grown up in the areas surrounding Emirates Stadium, so it will also be a thrilling experience for them to explore behind the scenes at this local landmark."
Cllr Michelline Safi Ngongo, Executive Member for Children, Young People and Families, said: "We're determined to give our children and young people everything they need for the best possible start in life. I am so pleased that our libraries can play a part in this fantastic project, helping young people to improve their reading through their love of football."