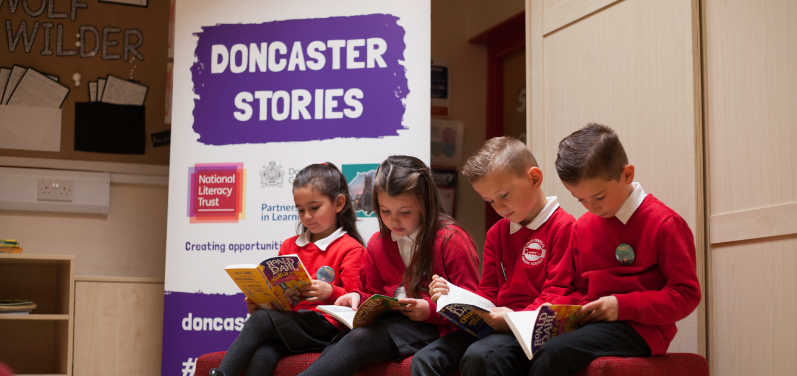 We launched our latest Literacy Hub, Doncaster Stories, this week! School children across Doncaster were treated to theatre workshops and a mass book giveaway for the launch.
Over the next 10 years, Doncaster Stories will deliver an array of fun, exciting and educational projects across the town to promote a love for reading. The campaign is being run in partnership with Doncaster Opportunity Area.
Already, over 7,500 children across 45 local primary schools have been given a Roald Dahl book to take home. In addition to the school giveaway, flurries of local school children have been exchanging golden tokens at their local library for a free Roald Dahl book. To ensure every child in Doncaster can access a free book, we have teamed up with local services including Family Hubs, businesses, NHS providers, and libraries to deliver a golden token scheme to children and families. These can be exchanged at participating libraries until 23 November.
The launch of Doncaster Stories also saw children from five local primary schools attend Roald Dahl themed theatre workshops yesterday, facilitated by West End in Schools, where children brought stories to life through drama.
In addition, Doncaster Stories is asking local residents, young and old, to nominate their favourite children's books to create the ultimate 'Doncaster 100 Reads' book list for children in the town. As a bonus for schools, the school that submits the most entries will win a collection of Roald Dahl books for their library, and one lucky child will also win a set of Roald Dahl classics for themselves. The deadline for entries is 1 November.
"On average, children from disadvantaged backgrounds can start school with a vocabulary 19 months behind their better off peers – a gap they may never recover from. Over the next decade, Doncaster Stories will work with the local community to build on the excellent work that is being done to close the attainment gap in the town."

Mike Leyland, Project Manager
"It's great to see the Opportunity Area and National Literacy Trust working in partnership to foster a love of reading in every child who receives a book or who goes to explore their library. Some of the poorest children in the UK start school months behind their peers and the gap can grow through their school years. Children with poor vocabulary skills at age five may be up to twice as likely to be unemployed in later life. That's why initiatives like Doncaster Stories and others that develop early speech, language and communication or maths and other skills can make a real difference at every stage of a child's life."

Lord Agnew, Education Minister
Find out more about Doncaster Stories.