On Friday 28 April, children from six schools attended the unveiling of Mexborough Library's new mural, which includes quotes from local children, along with local landmarks and book characters which were suggested during workshop sessions hosted by National Literacy Trust Project Manager for Doncaster Stories, Phil Sheppard. Doncaster Stories welcomed Ed Miliband, MP for Doncaster North and Eco-Literacy Champion, to cut the ribbon and officially open the mural.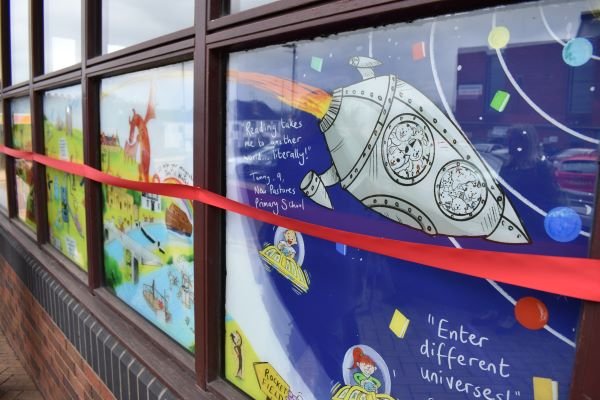 Inspired by local landmarks and a love of literacy
The mural runs across the 14 windows surrounding Mexborough Library, wrapping around two sides, and features characters from 40 different books. It's based on ideas and designs from children at six local schools who chose the local landmarks to be featured, such as Montagu Hospital, Mexborough Business Centre (Ted Hughes' Grammar School, and home of Doncaster Stories' Literacy Lab), and iconic shops on Mexborough's high street. Alongside his work for the National Literacy Trust, Phil is also a talented author and illustrator, and with the help of funding from Doncaster Culture and Leisure Trust, incorporated all of the children's ideas when creating this mural.
Phil Sheppard, Project Manager for Doncaster Stories, said: "Creating this mural for Mexborough Library has been great fun, and a real collaborative effort. Getting the children's input was wonderful, listening to their ideas and finding out what reading means to them was a crucial part of ensuring the mural represented the amazing community in Mexborough. Reading for pleasure is proven to positively impact children's academic attainment, and their mental wellbeing - which is why we wanted to support Mexborough Library with this project, so they can continue to provide free access to books for the community."
In your own words
The mural also features quotes from local children who have shared what reading means to them, including:
"Reading takes me to another world," Tommy, 9, New Pastures Primary
"It helps your imagination flow," Theo, 11, Windhill Primary
"Books mean I can escape the real world into a fantasy," Lilly-Mai, 11, Laurel Academy
"Each chapter is a new brick of life," Ella-Mai, 9, St John's Primary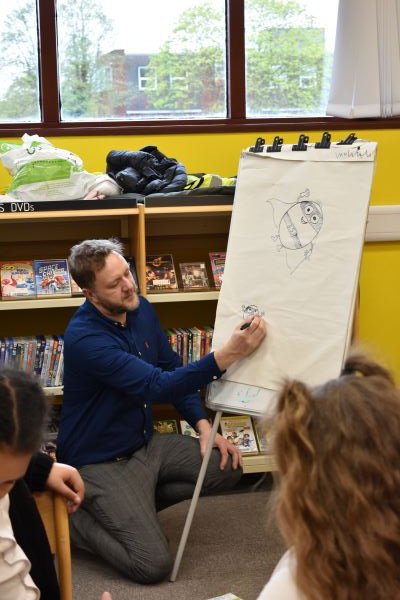 Draw it yourself!
After the official ribbon-cutting, Phil showed the children how to draw some of their favourite book characters as part of a draw-a-long.
The schools involved in the workshops and who attended the celebrations included: Highwoods, Montagu, New Pastures, St John the Baptist and Windhill primary schools, as well as local secondary school, Laurel Academy.
Find out more about Doncaster Stories and the work it does to improve literacy skills across the area. or follow the Facebook page, Doncaster Stories.