Doncaster Storytelling Festival 2023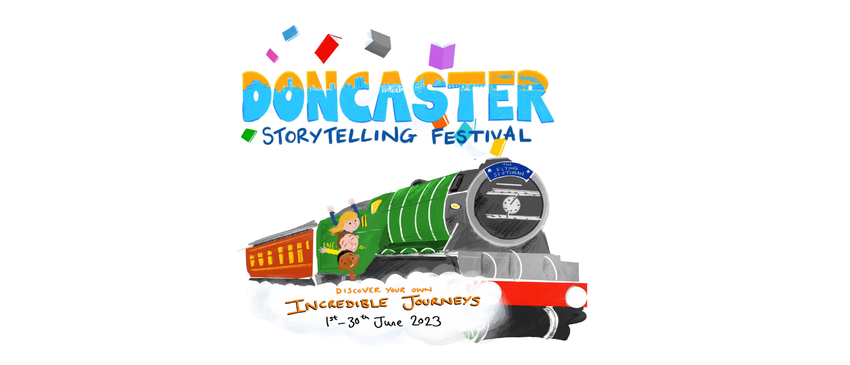 Incredible Journeys
Doncaster Storytelling Festival is back for the third year, with a brand-new theme! Originally launched in 2021, the festival brings together Doncaster's cultural partners for a month-long celebration of children's literature, travel, and the stories it inspires. This year we're sponsored by a range of fantastic rail companies to help us create a wonderland of stories, exclusive author events and workshops to inspire Doncaster children to take on their own incredible journey, fall in love with reading and build on their wider literacy skills.
The festival is sponsored by Unite the Union, VolkerRail, and Rhomberg Sersa UK. Take a look at the schedule below to see what we've got planned so far! All of the virtual events are free for schools to access. Sign up to exclusive events and check out the schedule below!
What's on at Doncaster Storytelling Festival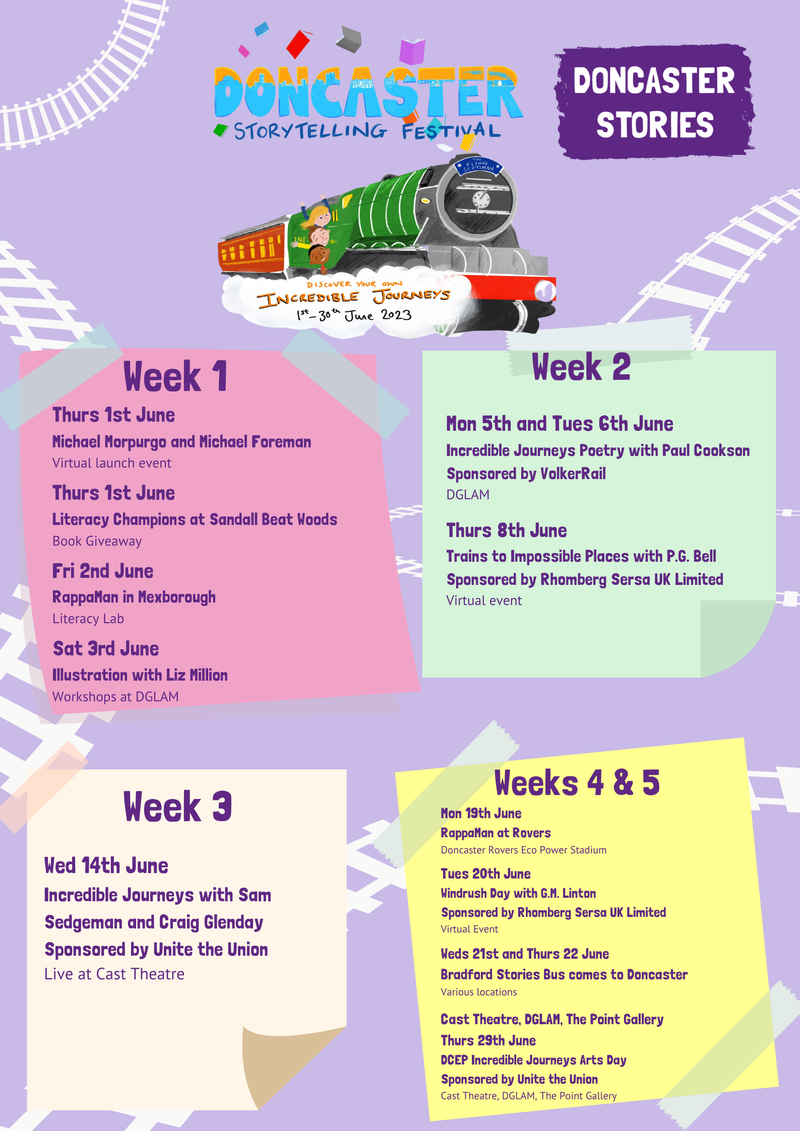 WEEK 1
Thursday 1 June – Michael Morpurgo and Michael Foreman
Michael Morpurgo and Michael Foreman launch the festival with a virtual event based around their new book Flying Scotsman and the Best Birthday Ever.
Thursday 1 June - Literacy Champions at Sandall Beat Woods
Join us in celebrating the amazing work of our Literacy Champions with a book gifting event for Volunteers' Week at Sandall Beat Woods. Find out more about how they have helped the local community, and how you can get involved, too!
Friday 2 June – RappaMan in Mexborough
Performance poet Donavan Christopher (AKA 'RappaMan') appears at the Literacy Lab for Mexborough schools (part of the Remake Learning Festival)
Saturday 3 June – Illustration with Liz Million
Illustrator Liz Million leads public workshops at Danum Gallery Library and Museum (part of the Remake Learning Festival). There will be three 45-60 minutes sessions, 10-11am, 12:30-1:30pm and 2-3pm. This is a free event but places must be booked in advance. Find out more information and book your place here.
WEEK 2
Monday 5 and Tuesday 6 June – Incredible Journeys Poetry with Paul Cookson | Sponsored by VolkerRail
Poet Paul Cookson leads spoken word workshops at Danum Gallery Library and Museum for invited primary schools
Thursday 8 June – Trains to Impossible Places with P.G. Bell (virtual event) | Sponsored by Rhomberg Sersa UK Limited
Join author P.G. Bell to hear all about his fascinatingly creative series of books, The Train to Impossible Places, shortlisted for the Waterstones Children's Book Prize. Hear about where P.G. gets his ideas, take part in a fun quiz, and ask questions live! Sign up for schools here.
WEEK 3
Wednesday 14 June – Incredible Journeys Live at CAST Theatre Sponsored by Unite the Union.
We're welcoming Sam Sedgman (author of the Adventures on Trains series and Epic Adventures: Explore the World in 12 Amazing Train Journeys) and Craig Glenday (Editor-in-Chief at Guinness World Records) with a local record holder to join and share their incredible record journeys. Each child will receive a free copy of the Guinness Book of Records.
WEEK 4
Monday 19 June – RappaMan at Rovers
Schools will join performance poet Donavan Christopher (AKA 'RappaMan') at the Doncaster Rovers Eco-Power Stadium
Tuesday 20 June – Windrush Day with G.M. Linton (virtual event) | Sponsored by Rhomberg Sersa UK Limited
Meet G. M. Linton, author of Sunshine Simpson, in this Doncaster Storytelling event - just before Windrush Day! This fascinating author is particularly inspired by her parents, who arrived in Britain from Jamaica as part of the Windrush generation in the 1950s. Find out more about the Windrush generation, take part in our quiz and, of course, ask our special author questions about reading, writing and where she gets her inspiration. Event starts at 10:30am, and will last 45 minutes. Schools can register here.
Wednesday 21 and Thursday 22 June - Bradford Stories Bus comes to Doncaster
We're welcoming the Bradford Stories Bus and learning all about its incredible journey. The Bus will be visiting various schools, with classes joining Imran and Phil for a storytelling and draw-a-long session.
WEEK 5
Thursday 29 June – DCEP Incredible Journeys Arts Day | Sponsored by Unite the Union
Schools will move between Cast Theatre, Danum Gallery, Library and Museum and The Point Gallery for a day of art-based fun, including a poetry/illustration workshop led by the National Literacy Trust.
Our Sponsors
With huge thanks to this year's incredible sponsors of Doncaster Storytelling Festival:
Unite the Union is a democratic and campaigning union, which fights back for employees in the workplace, protects workers' rights and takes trade unionism out to millions of unorganised workers.
VolkerRail is a leading railway infrastructure contractor, with over 70 years' experience on heavy and light rail networks, focused on helping bring communities together, through improved infrastructure, and providing better services for freight operators, train operators, and passengers.
Rhomberg Sersa UK is part of the Rhomberg Sersa Rail Group, with over 130 years' experience as a full railway engineering service provider. Enabling future mobility, it specialises in the design and construction of slab track solutions, track renewal and maintenance, tunnels, stations, consultancy, planning, and design. Innovation is at the heart of everything it does and its focus is on customer-oriented and tailor made solutions, working collaboratively with clients, partners and suppliers.