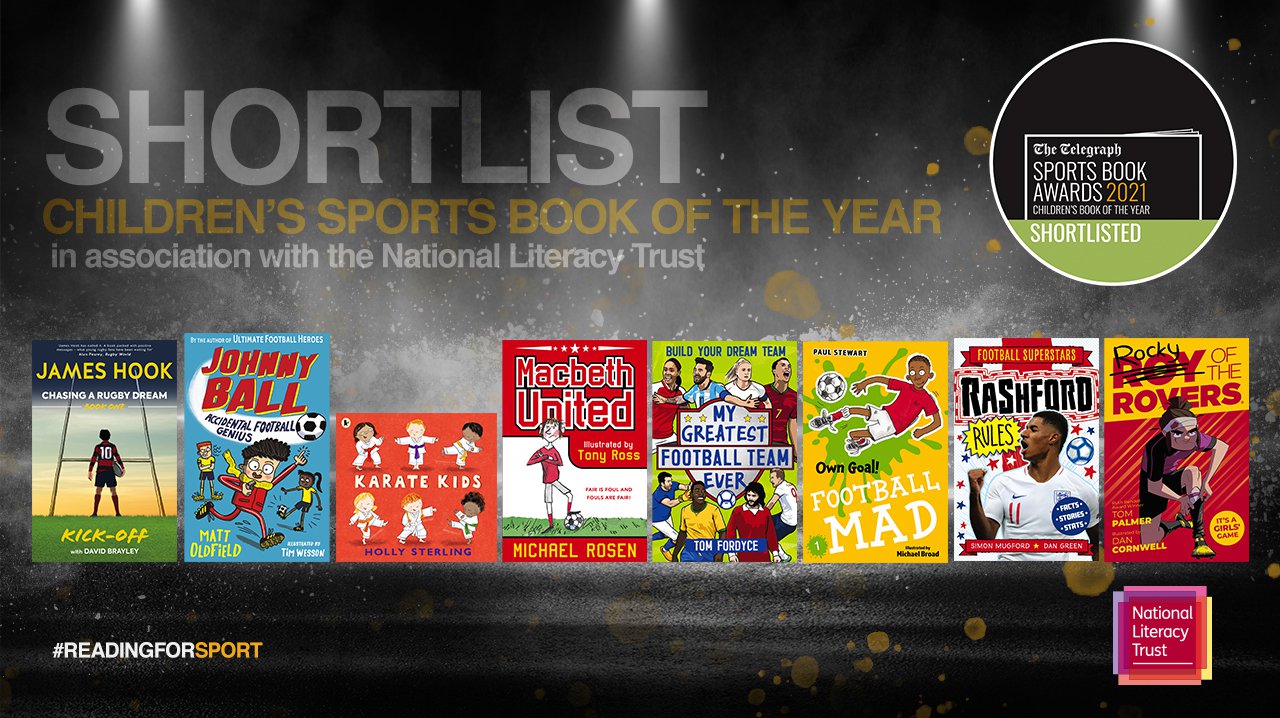 Last year, we launched a new charity partnership with the Telegraph Sports Book Awards, a major annual promotion for sports writing and publishing. As part of our partnership, a new Children's Sports Book of the Year category was created, to celebrate authors whose sporting stories have encouraged children to read for fun.
This year's shortlisted titles have been announced! The titles in the Children's Sports Book category shortlist encourage a love of reading through sports and physical activity, using sporting stories to inspire young readers.
Across the board, the shortlists feature a diverse mix of extraordinary writing from new and established writers and sportspeople across 11 categories, including the inaugural Clays Best Sports Writing Award and another new category, Sports Entertainment Book of the Year, in recognition of a rapidly growing area of sports writing.
The Telegraph Sports Book Awards is the major annual promotion for sports writing and publishing. The awards exist to highlight the most outstanding sports books of the previous calendar year, to showcase their merits and, to enhance their reputation and profile.
What's more, the Autobiography of the Year, International Autobiography or the Year, Sports Entertainment of the Year, and Sports Health & Fitness Book of the Year will all be decided by a public vote. To vote, visit: www.sportsbookawards.com
The winners will be announced on 20 September at The Kia Oval.
The Telegraph Sports Book Awards 2021 shortlist is as follows:
The Clays Best Sports Writing Award
Frankel - Simon Cooper (HarperCollins)
The Biggest Bluff - Maria Konnikova (HarperCollins)
The Moth and the Mountain - Ed Caesar (Viking)
The Russian Affair - David Walsh (Simon and Schuster)
The Breath of Sadness - Ian Ridley (Floodlit Dreams)
The Farther Corner - Harry Pearson (Simon and Schuster)~


Autobiography of the Year
Me, Family and the Making of a Footballer - Jamie Redknapp (Headline)
Fast Forward - Andrew Cole (Hodder & Stoughton)
Out of the Darkness - Matt Piper (Pitch Publishing)
Robbo: Now You're Gonna Believe Us - Andy Robertson (Reach Sport)
Born Fighter - Ruqsana Begum (Simon and Schuster)
Mud, Maul, Mascara - Catherine Spencer (Unbound)


Children's Book of the Year, in association with National Literacy Trust
My Greatest Football Team Ever - Tom Fordyce and Kieran Carroll (Hachette Children's Group)
Chasing a Rugby Dream - James Hook and David Brayley (Polaris)
Johnny Ball: Accidental Football Genius - Matt Oldfield and Tim Wesson (Walker Books)
Karate Kids - Holly Sterling (Walker Books)
Football Superstars: Rashford Rules - Simon Mugford and Dan Green (Welbeck)
Macbeth United - Michael Rosen and Tony Ross (Scholastic)
OWN GOAL! (Football Mad #1) - Paul Stewart and Michael Broad (Barrington Stoke)
Roy of the Rovers: Rocky - Tom Palmer and Dan Cornwell (Rebellion Publishing)


The Heartaches Cricket Book of the Year
The Commonwealth of Cricket - Ramachandra Guha (HarperCollins)
Comeback Summer - Geoff Lemon (Hardie Grant)
One Long and Beautiful Summer - Duncan Hamilton (Riverrun)
Barbed Wire and Cucumber Sandwiches - Dr Colin Shindler (Pitch Publishing)
That Will be England Gone - Michael Henderson (Constable)
Unforgiven, The Missionaries or Mercenaries? - Ashley Gray (Pitch Publishing)
Bob Willis: A Cricketer and a Gentleman - Bob Willis, Mike Dickson (Hodder & Stoughton)


VAARU Cycling Book of the Year
Colombia Es Pasión - Matt Rendell (Weidenfeld & Nicolson)
Dead Man to Iron Man - Paul Smith (Pitch Publishing)
Signs of Life: To the Ends of the Earth with a Doctor - Stephen Fabes (Pursuit, Profile Books)
Mountains According to G - Geraint Thomas (Quercus)
Tour de France Champions: An A-Z - Giles Belbin (The History Press)


CLOC Football Book of the Year, in association with the Football Writers' Association
Sacré Bleu: Zidane to Mbappé – A football journey -Matthew Spiro (Biteback Publishing)
Champagne Football - Mark Tighe & Paul Rowan (Sandycove, Penguin)
The Quality of Madness - Tim Ric (Quercus)
Soccer Diplomacy - Heather L. Ditcher (UKP)
How to Run a Football Club - Jim Keoghan (Pitch Publishing)
St. Pauli: Another Football is Possible - Natxo Parra, Carles Vina (Pluto Press)


Illustrated Book of the Year
British Football's Greatest Grounds - Mike Bayly (Pitch Publishing)
Skate Like A Girl - Carolina Amell (Prestel)
This is Cricket - Daniel Melamud (Rizzoli)
We Are Home - Mike Dunn & AFC Wimbledon (Vision Sports Publishing)
175 Years of Surrey CCC, Surrey CCC (Vision Sports Publishing)


Pinsent Masons International Autobiography of the Year
Luka Modrić: My Autobiography - Luka Modrić (Bloomsbury Publishing)
True Colours - Barry Geraghty (Headline)
Both Sides - Nicklas Bendtner; Rune Skyum-Nielsen (Octopus)
Basta - My Life, My Truth - Marco van Basten (Octopus)
My Life in Red and White - Arsene Wenger (Weidenfeld & Nicolson)
No Hiding - Rob Kearney (Reach Sport)


Arbuthnot Latham Rugby Book of the Year, in association with The Rugby Writers' Club
Loose Head - Joe Marler (Ebury)
What A Flanker - James Haskell (HarperCollins)
Our Blood Is Green - Gavin Rich (Polaris)
Exe Men - Robert Kitson (Polaris)
The Hurt - Dylan Hartley (Viking)
No Hiding - Rob Kearney (Reach Sport)


Sports Entertainment Book of the Year
Never Stop Dreaming - Stuart Pearce, Oliver Holt (Hodder & Stoughton)
You're Better Than That - Chris Sutton (Monoray, Octopus)
Only Here For A Visi - Alan Brazil (Bantam Press, Transworld Books)
Lights Out, Full Throttle - Damon Hill and Johnny Herbert (Pan Macmillan)
26.2 Miles to Happiness - Paul Tonkinson (Bloomsbury Publishing)
I've Got Mail - Jeff Stelling (Headline)


Sports Health & Fitness Book of the Year
Relentless: 12 Rounds to Success - Eddie Hearn (Hodder & Stoughton)
The Whitlock Workout - Max Whitlock (Headline)
Goals: Inspirational Stories to Help Tackle Life's Challenges - Gianluca Vialli and Gabriele Marcotti (Headline)
30 Day Kick Start Plan - Joe Wicks (Bluebird, Pan Macmillan)
The Furious Method - Tyson Fury (Century, Cornerstone)
Eating for Results - Chloe Madeley (Bantam Press, Transworld Books)