Jim Sells, Sport and Literacy Programme Manager reveals the summer of fun the National Literacy Trust has in store for schools.

Here at the National Literacy Trust, we know that a great way to get children engaged in reading is through their interests.
A really popular and effective way of getting children to read for pleasure is through their love of sport. This summer, we are so excited to be bringing a whole programme of fun events, resources and challenges to schools across the country (that's right, anyone can join the fun!) to get your pupils reading and talking about books, raising their aspirations and inspiring them to write creatively.
Here's a run-down of this summer's line up. We'll be keeping this page updated so keep checking back for more announcements!
EUROS 2020 inspired activity!
Personally I'm a HUGE football fan, and I'm delighted the UEFA EURO 2020 tournament graces our screens once again this summer. We have three cool things you can get your class stuck into, all inspired by the EUROS:
We're proud to bring you a free live event, a free 'live' EURO story, and a free UEFA EURO 2020 reading challenge – huge thanks to our partners at The FA and Rebellion publishing for supporting these!

This involves a wallchart reflecting the tournament fixtures with recommended book titles twinned with participating countries 'playing off' against each other. Children will have 'book matches', to ultimately find a class favourite, and find out which title will be crowned the champion of Europe!
Pupils are encouraged to read their chosen text and participate in 'book matches' where they will present three points about why their title should progress in the tournament, followed by a vote from the whole group or class to see who goes through. At the end of the tournament everyone commits to reading the winning text in celebration.
The reading challenge is also part of 11 exciting curriculum-based challenges that can be found in The FA's UEFA EURO 2020 Schools Pack, which you can access from here. The pack includes activity sheets, teaching guides, and classroom display resources.
On Friday 11 June at 10.30, we will run a free, live Zoom webinar event with Tom Palmer, aimed at children aged seven to 12 in which they'll be able to ask questions about football, reading and writing.
Register here today!
This will include a live reading of the first chapter of Tom's story he is writing as the tournament unfolds, featuring characters from his Roy of the Rovers books – Roy and his sister Rocky – to excite children and young people about reading during the tournament.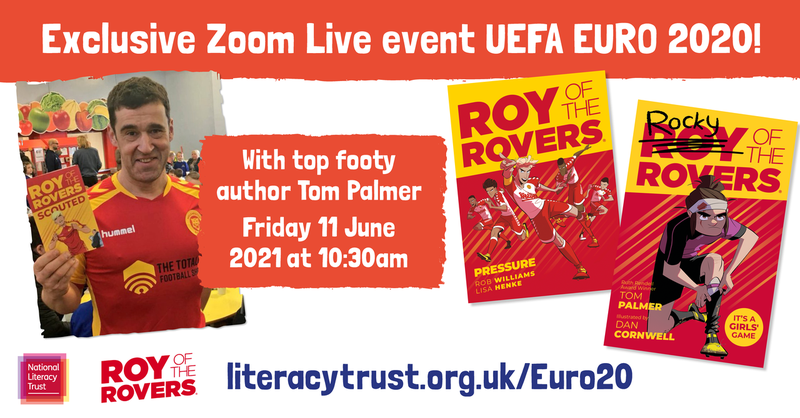 The story will be written in 12 'live' chapters that will be released during the tournament on our Euros resource page at 7.30am every Monday, Wednesday and Friday. Supporting worksheets and video content will also be available.
Live online author events!
On 15 June, we're teaming up with Premier League Primary Stars and exciting new football author Priscilla Mante to bring children aged 7-11 a live event, football-themed activities, an 'Achieve your dreams' challenge and the first three chapters of Priscila's latest book!
Priscilla will also provide a mini workshop all about how to achieve your dreams, and how to create a dream football team. Presenter Kenzie Benali is hosting the event and will ask Priscilla YOUR questions taken from the live feed.
There's also the chance to win a free box of books for your school! So register now for free to have a chance to attend this exclusive event and put your questions to Priscilla.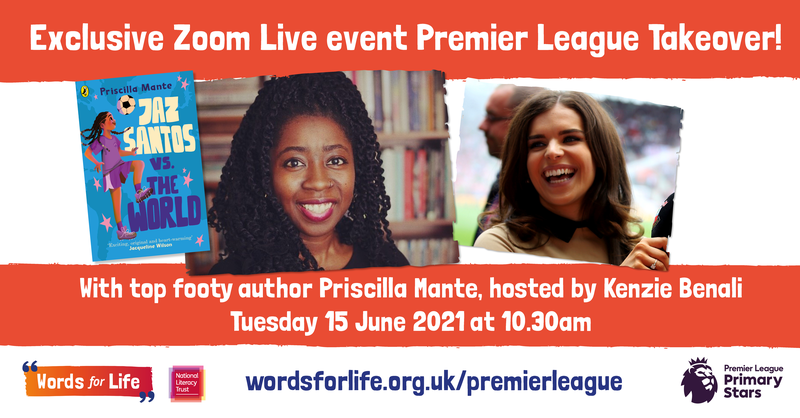 Schools can register securely to take part in the event here
A week-long football festival!
We are incredibly excited to announce that in partnership with the Premier League, we're bringing schools a week-long football and reading festival!
The inaugural Premier League Primary Stars Reading Festival, which will take place between 12 and 16 July 2021, gives primary school teachers across England and Wales the opportunity to access fun, free author events for pupils which combine football, sport and reading.
The five-day event allows pupils the chance to engage in daily online sessions where they can be inspired by six top children's authors:
Monday 12 July - Paul Cookson author of Football 4 Every 1 (Pan Macmillan)
Tuesday 13 July – Sharna Jackson author of High-Rise Mystery (Knights Of)
Wednesday 14 July - Kwame Alexander author of Booked (Andersen Press)
Thursday 15 July - Venessa Taylor author of Baller Boys (Hashtag Press)
Friday 16 July - Matt Oldfield and Charlotte Browne authors of Ultimate Football Heroes series (Bonnier)
The live author sessions will take place via a free Zoom Webinar each morning from 10.30am, starting with Paul Cookson on Monday 12 July and ending with a double-header event featuring Matt Oldfield and Charlotte Browne on Friday 16 July.
The overarching theme of the Premier League Primary Stars Reading Festival is celebration! Authors will lead a range of workshops and readings and pupils can submit questions for the speakers. Plus, those who participate by sharing their work on social media using the hashtag #PLPrimaryStars will be entered into a prize draw to win a box of books for their school.
We understand how hard this academic year has been for teachers and their pupils and we want this to be a week of fun, creativity and inspiration. That's why we chose the theme of celebration! A great way to get children into reading, and help them gain the life-long benefits of reading is to tap into their interests. This festival engages them in books and literacy through their love of football.
For more information and to sign up to the sessions, please visit: wordsforlife.org.uk/premierleague