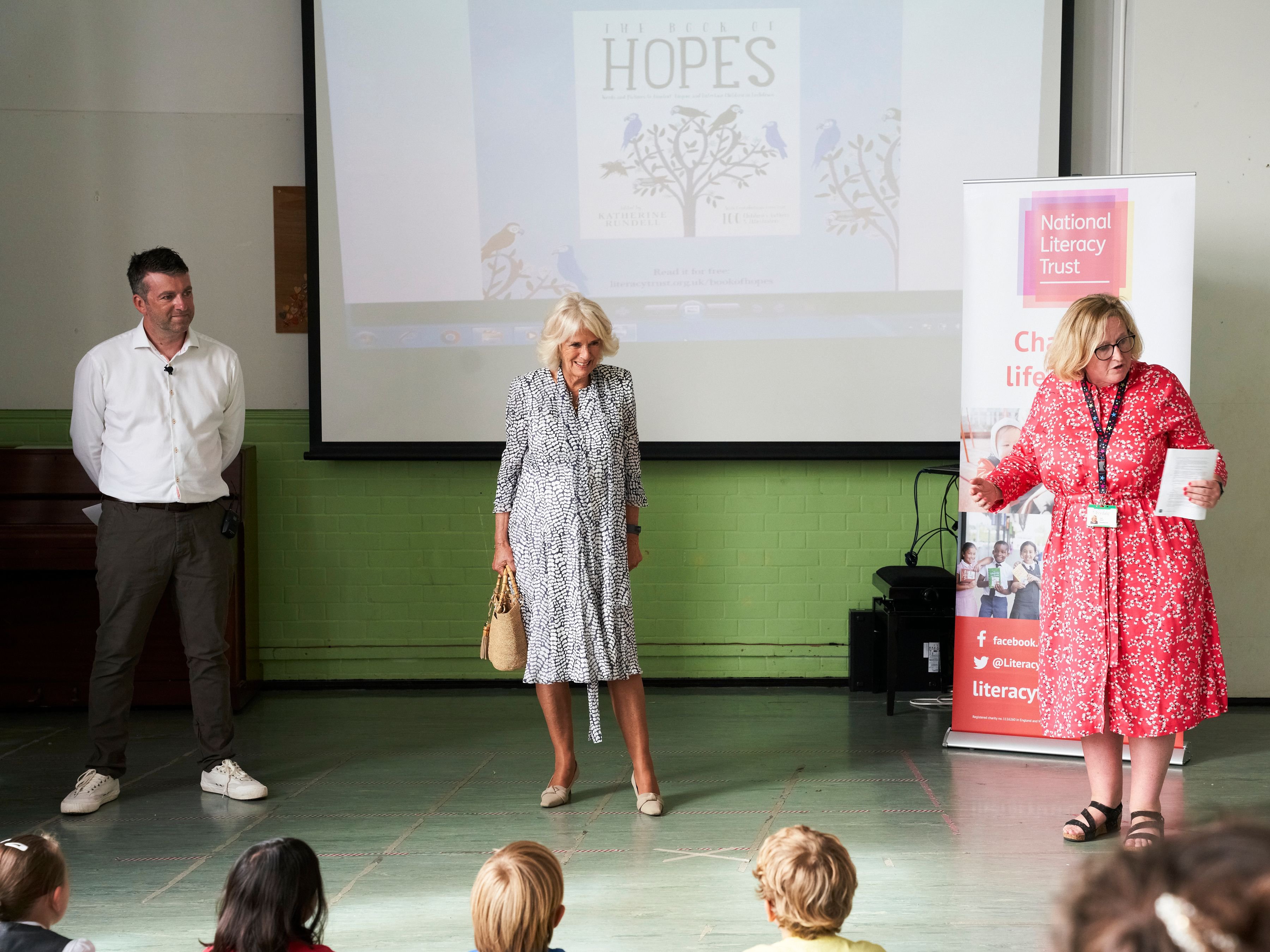 To celebrate International Literacy Day and the transformative power of school libraries, our Patron, Her Royal Highness The Duchess of Cornwall, visited Ivydale Primary School in London to open their spectacular new school library.
Her Royal Highness also launched our new Virtual School Library which, from Monday 14 September, will provide all primary school children in the UK with a free ebook or audiobook, an exclusive video and engaging activities from a different beloved children's author or illustrator every week.
On arrival, Her Royal Highness met Helen Ingham, Headteacher at Ivydale Primary School, and a group of parents who not only fundraised for the past three years to make the new school library possible, but also provided architect designs and decorating services and sourced book donations to bring the school library to life.
Her Royal Highness then met children's author Chris Smith, who was busy entertaining Year 3 pupils with fun poetry activities inspired by his brilliant poem with Greg James, The Hope-o-potamus, featured in The Book of Hopes (published by Bloomsbury Children's Books). The children helped Chris to make up a funny poem to welcome Her Royal Highness to their school, which made her laugh!
Her Royal Highness was then shown around Ivydale Primary School's brand-new school library by a group of excited Year 3 pupils, who pointed out their favourite things about the library and their favourite books.
In the school library, Her Royal Highness also announced the launch of our new Virtual School Library and recorded a special video message which will appear on our website when it officially launches on Monday 14 September. Stay tuned!
Having access to a school library is really important for children. Our research shows that school libraries nurture a love of reading that can enrich children's literacy skills, academic achievements and mental wellbeing, but not every child has a library at their school and, for those who do, the possibility of future local lockdowns could restrict their access.
1 in 10 schools in England does not have a school library, rising to almost half of schools serving the most disadvantaged communities; while our research found that almost 1 in 4 children did not have access to books of their own or library books during lockdown.
Our Virtual School Library, supported by Kindred2, a charitable foundation, will open up access to stories for every primary school child in the UK, while complementing existing school libraries.
Once it officially opens on Monday 14 September, it will be free for all primary schools and families in the UK. Its first guest authors will be Chris Smith and Greg James who will share an exciting new video, a free audiobook from the duo's Kid Normal series (published by Bloomsbury Children's), some super literacy activities and their top three recommended children's books.
School libraries will play a vital role in supporting the literacy, learning and wellbeing of all children as they return to school after such a significant disruption to their education. Ivydale Primary School's brand-new school library was the perfect setting for our Patron HRH The Duchess of Cornwall to launch our new Virtual School Library which will ensure that children have access to the magical world of stories all year round. We've worked with brilliant publishers, including Bloomsbury and Penguin Random House, as well as some inspiring authors to ensure that the books and activities in our Virtual School Library will support children's wellbeing through reading on their return to school.

Fiona Evans, Director of School Programmes at the National Literacy Trust
I am so grateful to our incredible parents and PTA, publishers including Penguin Random House, HarperCollins, Walker Books and Pan Macmillan, and local independent bookshops Rye Books and Tales on Moon Lane for making today possible. It was an absolute honour for Her Royal Highness to open our new school library. It has been a truly special day that our children will never forget.

Helen Ingham, Headteacher at Ivydale Primary School