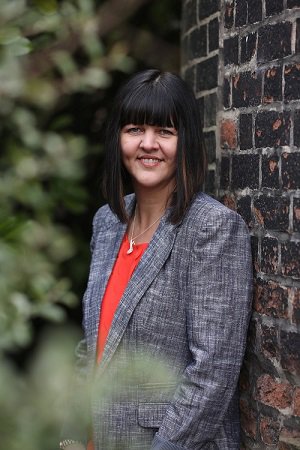 In partnership with HarperCollins, we are delighted to announce that bestselling crime author Mel Sherratt will become an ambassador for the National Literacy Trust.

Mel Sherratt, who was born and lives in Stoke-on-Trent, will work alongside publisher HarperCollins and The Literacy Project to support our ongoing work in the city. We have been working to raise literacy levels in Stoke since 2016 through our National Literacy Trust Hub, known locally as Stoke Reads.

Mel is the author of twelve crime novels, many of which are set in or based around Stoke-on-Trent. Her latest book, Hush Hush, is the first in a new series featuring DS Grace Allendale, who returns to her hometown of Stoke to pursue a murder investigation.

As an ambassador for the National Literacy Trust, Mel will help to inspire students across the city to further their career aspirations and highlight the importance of literacy skills for success. She will visit a number of secondary schools across Stoke-on-Trent to talk to groups of secondary school students and answer questions about her career as an author. She will also support the Stoke Reads BookBench trail when book-shaped benches decorated by local children will appear across the city next spring.

The publisher of Mel's books HarperCollins, in association with The Literacy Project, is supporting the our work in Stoke in a number of ways over the next year. This includes funding our Words for Work programme, which will see their employees go into secondary schools to help equip students with the communication skills they need to be successful in the workplace.

Our Director Jonathan Douglas said: "We are thrilled that Mel is joining her publisher HarperCollins and The Literacy Project in supporting our important work in Stoke-on-Trent. We know that young people often don't see the link between literacy skills and employability, and many aren't aware of the wide range of career paths available to them. Mel will be a fantastic role model for students in the city, inspiring them to be ambitious and fulfil their potential."

Mel Sherratt said: "I am delighted and honoured to become a National Literary Trust ambassador and support the excellent work that is already taking place in my home city. It's so important to raise literacy levels and ensure that the next generation have as many chances as possible to live a rich and fulfilled life. I think it is a great opportunity for students to learn more about publishing. I write novels but there are also lots of other career opportunities - editing, public relations, sales and design to name a few. I'm really looking forward to working with everyone."

Katie Fulford, Special Projects Director at HarperCollins said: "Mel is an inspirational writer, and we are proud that she is both a HarperCollins author and a National Literacy Trust ambassador. She has shown that with grit, determination and talent you can succeed, and I know she will be fantastic at taking that message to the young people of Stoke."

Find out more about our work in Stoke-on-Trent.