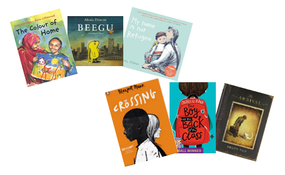 Our expert team from the Young Readers Programme have compiled this booklist that celebrates the contributions, creativity and resilience of refugees and people seeking sanctuary.
Teachers of children aged 5 to 12 (Key Stages 1 and 2, or P1 to P7) may find these titles especially useful when teaching empathy, supporting children's understanding of how conflict causes people to leave their homes. It may have particular relevance if your school community is welcoming new pupils impacted in this way.
As you will be aware, it is essential to be sensitive to lived experience and emotional responses in your classroom when approaching this theme.
Our friends at Browns Books are currently offering a 40% discount on the listed titles to support schools in talking about this subject. Download the booklist for more details and links.
Related resources and support
With a focus on Refugee Week and Empathy Day in June, and as part of our response to the war in Ukraine, we have developed resources for different age groups as well as compiling useful information to help schools and families:
Download file
You might also be interested in