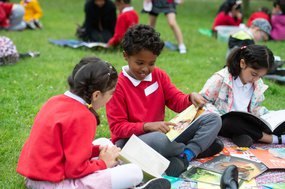 Celebrate reading and inspire children with our curated booklists. We've compiled lists matched to age ranges, genres and themes to help engage children, develop their own reader identity and to encourage them to try something new.
Our booklists include:
Age ranges covering 5 through to 13+
Genres including non-fiction, magazines and funny books
Themes such as wellbeing, the environment, space & STEM, refugee and migrant stories, and LGBTQIA+
Plus award winners, titles to engage reluctant readers, and inspiration for what to read next after a title or author they have really enjoyed.
Why reading is important
Our research has shown that in 2020 reading played an important role in supporting children's wellbeing during the lockdown period, as well as identifying an increase both in the amount of reading children did, and how much they enjoyed it.
We know that reading for enjoyment is vital to a child's development and future success in life. Children who enjoy reading are three times more likely to read above the level expected for their age than children who don't enjoy reading. As well as this, children who are good readers are three times more likely to have higher mental wellbeing than their peers with below expected reading skills.
So explore our booklists, share them with your class, pin them up in your library or book corner and inspire children as they choose their next good read!
Try our Reading Tree challenge to encourage children to share recommendations and talk about the books they have enjoyed.
---
These book lists have been created by our award-winning Young Readers Programme team drawing on 25 years of experience in helping children develop a love of reading. The programme uses fun activities and events to help young children learn how to choose books they will enjoy, and providing the chance for them to select brand new books which they can take home to keep.
Download files
You might also be interested in