Young Readers Programme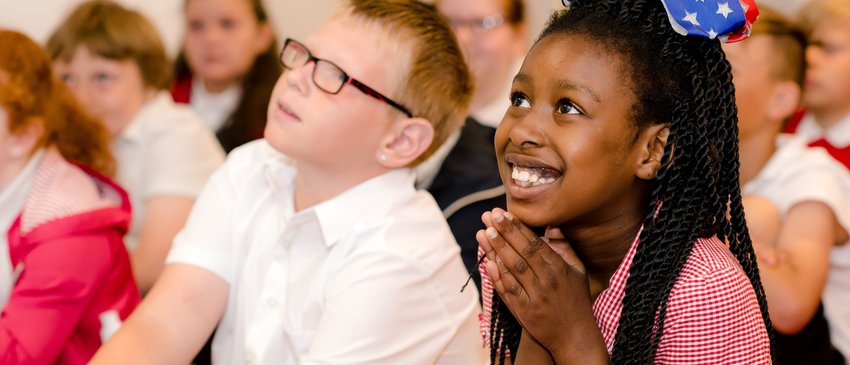 Many children in disadvantaged areas leave primary school unable to read at the expected level. Through the Young Readers Programme, we support these children to develop their love of books and reading identity through a series of fun events focused on book choice and reading for enjoyment.
About the programme
The Young Readers Programme is:
Changing the lives of children living in deprived areas or who are experiencing poverty.

25% of children left primary school last year unable to read properly. This increases to 39% for children eligible for free school meals. We target schools where the need is highest because we know that a love of reading can change lives.

Giving children brand-new books

Through a series of fun events, we give children the opportunity to choose books that they can take home and keep. These are often the first books they have ever owned.

Award-winning

We have been awarded the Corporate Engagement Gold Award 2023 for best collaborative approach for our partnership with WHSmith and The Young Readers Programme won the Bronze award for best educational programme.

No cost to schools

We work with a variety of fantastic funders to invite schools in areas of high literacy need, putting books into the hands of those who need them most. Our projects often involve volunteers local to the schools we work with, giving back to the local community.
It's our 25th anniversary!
We celebrated 25 years of the Young Readers Programme in 2022/23. Check out our 25 books for 25 years booklist below, featuring some of our favourites from the last quarter of a century, and keep an eye out for more celebrations throughout the year!
25 books for 25 years booklist
Impact
We know that reading for enjoyment is vital to a child's development and future success in life. Children and young people's reading enjoyment is linked with their reading attainment, maths attainment, and mental wellbeing, and could even have an economic impact on wider society. Each year we survey children and teachers to evaluate the impact of the Young Readers Programme.
Book ownership
Last year 1 in 5 children who took part in the Young Readers Programme told us the books they chose were the first books they've owned. Over half of children also said that they are now better at reading and choosing books to read. One teacher told us "there are many children who don't have a single book at home and they are now very proud of the three that they have. They bring them to school each day". Another teacher told us about a student who "was delighted to be able to choose books to take home. They were so proud that they went home hugging their book."
Reading for enjoyment
100% of teachers who took part in the programme last year told us that they noticed an increase in pupils reading enjoyment as a result of the Young Readers Programme. When asked after taking part in the programme, 3 in 5 children said that they think reading is more fun whilst 1 in 2 said they were better at reading after taking part in three fun reading events.
Book choice and diversity
100% of the teachers we asked agreed or strongly agreed that the programme increased pupils' access to books with characters who are diverse, inclusive and representative with one teacher remarking "it was great for them to see characters that look and perceive the world in the same way that they do".
Lasting change
4 in 5 teachers noted that the programme had increased the focus on reading for enjoyment in their school and 9 in 10 reported that they noticed positive changes in their pupils reading frequency following participation in the programme.
Take a look at our latest research report on the Young Readers Programme.
Reading and book choice resources
Supporting resources, activities and book lists for schools taking part in the Young Readers Programme.

Learn more

Celebrate reading and inspire children with our themed book lists.

Learn more

This collection of short films feature some of our favourite storytellers, poets, writers and illustrators telling exciting stories.

Watch now
Find out more
The Young Readers Programme works with state schools across the UK throughout the academic year. It is a funded programme which works largely by recruiting specific schools in target areas. If you have any questions you'd like to ask us, we'd love to hear from you!
If you are interested in funding the Young Readers Programme or collaborating with us do get in touch.
Please send all enquiries to: youngreaders@literacytrust.org.uk