This year, 90 pupils from Year 2, 4 and 6 at St Mary's Bryanston Square School in London have been taking part in our Young Readers Programme in partnership with British Land. Oliver Knight, Assistant Head and Year 2 Teacher was delighted with the positive change he noticed in the children's attitudes towards reading, as well as their literacy levels.
"A high proportion of the pupils who took part are on free school meals and for many, English is not their first language," explained Oliver. "Reading for pleasure was not something that they were very interested in before the programme began."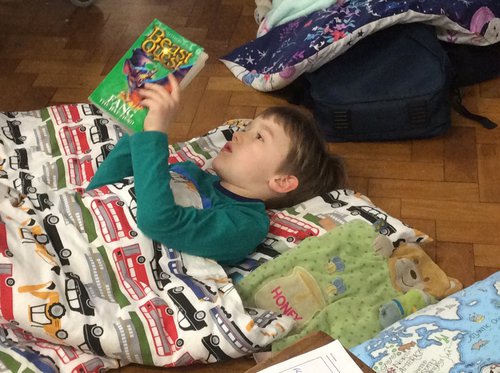 However, after running the programme throughout the year and holding several fun events like 'Tuck in and Read' (a sleepover in the school hall) and a 'book-nic' (an opportunity to read with a picnic), Oliver really noticed an excitement and buzz around reading. "The events were a great way of getting books into the hands of the pupils and getting them talking to each other about the kinds of stories they were really interested in with their peers," Oliver said.
To celebrate the fantastic progress the children had made, they got the chance to visit the offices of British Land, learning about how a real working environment operates, which really piqued the interest of the pupils.
Oliver is hoping to run the programme again next year with different year groups. He said: "I was delighted by not only the response of the children involved, but also the ripple of excitement it caused throughout the school. The programme was so popular that we had other year groups wanting to get a chance to participate as well."
Oliver noticed that the children are taking themselves off to the reading corner much more often now and asking to visit the school library. He added: "What was really interesting for me was being able to watch the children take such delight in picking out their own books to read. Some popular choices included classics the teachers also loved as children, like The Little Mermaid and Tintin which was a lovely experience for us.
"It really highlighted for us how much of an impact giving children from all walks of life access to different genres, characters and stories can have on improving their engagement with reading. Seeing how much they enjoyed it was really rewarding for us."