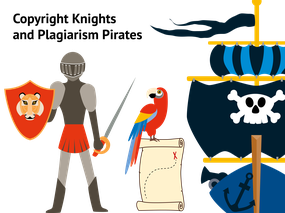 Copyright and plagiarism can be challenging concepts for children to engage with and fully understand. We've developed these activities and a creative writing challenge to introduce some of the key ideas around what copyright is, who and what it protects and why it is important to protect creativity. They also help pupils to consider what plagiarism is, what happens when you plagiarise and why it is wrong.
The resource includes:
A teaching resource featuring fun ideas and activities to explain copyright and plagiarism

A certificate of achievement for all children who complete the task
Children are challenged to:
Become a Copyright Knight and write a chivalrous code of conduct to teach people about copyright and help them understand why protecting creativity is important. 
Become a Plagiarism Pirate and write a swashbuckling song explaining what plagiarism is and what happens to people if they do it.
These resources were created in partnership with the Authors' Licensing and Collecting Society (ALCS) for a competition we ran in 2018 aimed at pupils aged between 5 and 14 years.
Download files
You might also be interested in