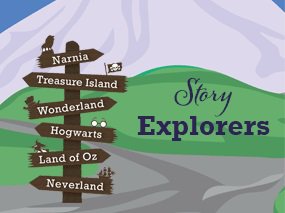 Have you ever wanted to explore a story? Perhaps you would like to visit the Chocolate Factory with Charlie, ride a polar bear in the frozen North with Lyra or travel to Middle-earth's Lonely Mountain with Bilbo Baggins?
Our Story Explorers resource challenges pupils to write a visitor's guide or create a map based on their favourite story setting in children's literature. Children will investigate what makes a good story location, and will apply their imagination and creativity to writing (and drawing!) with real purpose.
The resource includes:
A teaching toolkit with fun ideas and activities to explore story settings and prepare students for the challenge
Two brilliant extracts from The Wolf Wilder and The Explorer by Katherine Rundell demonstrating amazing story locations
A downloadable certificate of achievement for all children who complete the task
Printable templates and materials for your classroom to support the activity.
These resources were created in partnership with the Authors' Licensing and Collecting Society (ALCS) for a competition we ran in 2018 aimed at pupils aged between 7 and 14.
Download files
You might also be interested in