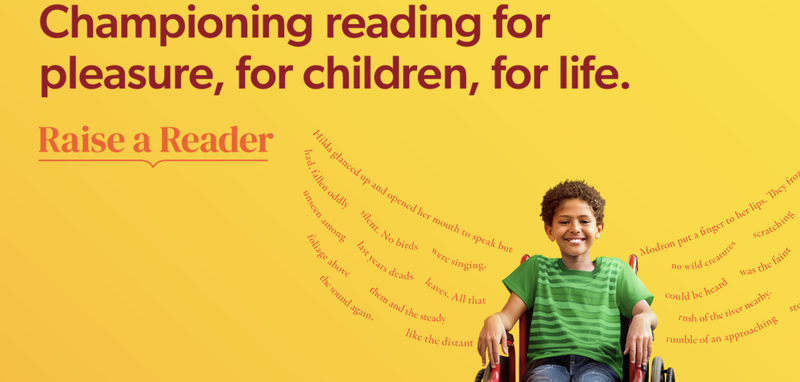 Today, Oxford University Press (OUP) has unveiled a comprehensive three-year campaign to help provide children and young people with the tools and opportunities to become lifelong readers in the wake of the pandemic.
Inspired by the expert insights gained from OUP's highly regarded research into the word gap and informed by newly commissioned consumer and educator research exploring the barriers to becoming a life-long reader, the three-year campaign will bring schools, booksellers, local communities, parents, librarians, literacy partners and reading experts together to unite in a shared mission to raise readers.
The campaign launches with a collaboration with the National Literacy Trust, which sees OUP join the Primary School Library Alliance as a flagship partner.
The 'Oxfordshire Raise a Reader Programme' will champion reading across 10 Oxfordshire schools in the first year with the goal of raising a generation of readers in schools and families in Oxfordshire's most disadvantaged and under-served communities.
Schools will receive a donation of 500 books each (300 books donated by OUP and 200 donated by independent publishers), as well as a range of soft furnishings and books storage, in order to create their own dedicated reading spaces. Schools will also have access to in-person specialist training to help develop effective whole-school reading strategies as well as receiving a subscription to Oxford Reading Buddy, a digital reading service of nearly 500 books, and the opportunity to host exciting author visits.
As part of the Raise a Reader launch, Oxford University Press has also revealed insights from new consumer and educator research which has informed the campaign, exploring perceptions of reading alongside the barriers and opportunities to becoming life-long readers.
The research polled 2000 parents with children aged 3-11 and over 300 primary school teachers, as well as over 1000 children aged 7-11 who took part via a CHILDWISE omnibus survey. The findings reveal that while most parents appreciate the value of reading with their children, many still struggle to create a regular reading habit with their kids. Challenges which parents contend with include getting children to concentrate, avoiding distractions from screens and gadgets, not having enough time in the day or having a reading routine. One in four parents were unsure how often they should be reading with their child.
To address the findings from the research, OUP will be taking Raise a Reader directly to communities, with a tour in November, visiting ten locations across England with lower levels of literacy. The reading roadshow will invite parents and children to visit a bespoke Raise a Reader campervan, packed full of free books, engaging activities, and reading resources. Parents and carers can take advantage of expert advice and resources helping break down the barriers to reading for pleasure, and the campervan will also stop off at schools across the country to celebrate the joys of reading with teachers and pupils via exciting workshops with authors and illustrators. Oxford authors and illustrators will join the tour at each stop, including Winnie & Wilbur illustrator Korky Paul, husband-and-wife creators of The Perfect Fit, Naomi and James Jones, plus Paul Westmoreland, the author of OUP's major young fiction autumn launch Rudy and the Wolf Cub.
A raft of Oxford authors and illustrators will support the campaign as Raise a Reader ambassadors, taking part in physical and virtual events, as well as sharing their reading tips and advice. OUP will also provide a range of free, collaborative resources including a digital toolkit parents can download packed full of fun, interactive activities.
Helen Freeman, Director of Oxford Children's and Raise a Reader Project Director, said:
'We know how vital reading for pleasure is; reading unlocks learning, supports wellbeing and inclusion, develops vocabulary and enhances life chances. Our research reveals that 80% of parents and carers believe reading to their child improves the child's wellbeing and mental health. Particularly now, in the wake of the pandemic which disproportionately exacerbated the learning gap in children from low socioeconomic status families, it's more important than ever we ensure every child and young person has the tools and opportunities to become lifelong readers. We are delighted to work with partners such as the National Literacy Trust on our Raise a Reader initiative, which is part of our mission to improving children's literacy – from learning how to read to building a reading habit; helping to close the word gap and raising children and young people to read widely and for pleasure.'
Jonathan Douglas, CEO of the National Literacy Trust, added:
'We are delighted to be collaborating with Oxford University Press and to welcome them as a flagship partner of the Primary School Library Alliance. The National Literacy Trust is committed to raising literacy levels and the 'Oxfordshire Raise a Reader Programme' will work with schools within the most disadvantaged communities in the region. Through this vital programme, these families and communities will be given the books, training and support they need to nurture a love of books so that their young people can access the transformative benefits of reading for pleasure.'
Author, Creator and Raise a Reader Ambassador, Louise Pentland said:

'I am absolutely thrilled to be working with Raise a Reader. Reading and children's literacy has been a passion project of mine for many years – it's fundamental and these latest stats only prove how important it really is. Ultimately the goal is to help as many children as possible become lifelong readers – and there are many ways to do this – from education, to access, to understanding. Reading for pleasure has quite simply been a magical part of my life, and my children's lives – so to help open this door to other children [and adults] simply fills me with joy.'