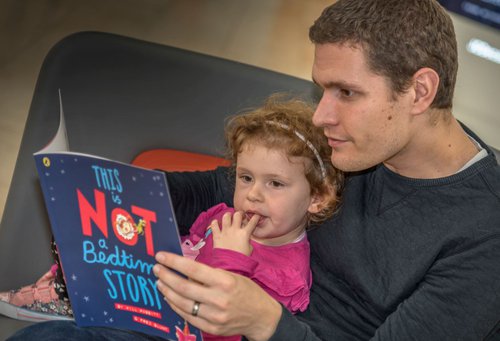 Our new research marking World Book Day has revealed that almost three quarters (72%) of children aged 8 to 11 in the North East enjoy reading. 
The initial findings are taken from our Annual Literacy Pupil Survey of more than 49,000 children and young people across the country. 

While an encouraging number of the region's children read for enjoyment, the findings suggest there is work to do to inspire more regular reading. Just 40% of pupils aged 8 to 11 in the North East say that they read something every day outside class, which compares to 48% of their peers nationally in England. 

The findings also show a gap between the reading habits and attitudes of boys and girls: 

• Fewer boys than girls aged 8 to 11 in the North East say that they enjoy reading (69% vs. 78%).

• Just a third of boys (33%) read something daily outside class, compared to 47% of girls. 
Read North East is a campaign from the North East Literacy Forum, which promotes reading for enjoyment to help raise literacy levels. In four months, Read North East has gifted over 4,000 books to families to inspire reading at home, which were generously donated by campaign partner Penguin Random House. Book giveaways have been held at locations including Middlesbrough FC and Sunderland AFC, using the power of football to motivate boys in particular to enjoy reading and close the gender gap.

Clare Argar, Head of Community Campaigns at the National Literacy Trust said: 

"It is great to see that so many children across the North East enjoy reading. This is testament to the fantastic work of our North East Literacy Forum partners including Seven Stories, New Writing North, SCHOOLS NorthEast, and the brilliant library services across the region.
"We know that children who enjoy reading and read more frequently do better at school, which in turn helps them to fulfil their potential and succeed in life. We are looking forward to working with partners to deliver more projects and events in the North East as part of the campaign, inspiring children across the region to fall in love with books and reading."
World Book Day on Thursday 1 March is a worldwide celebration of reading. Every pupil in the region will receive a £1 book token, which can be exchanged for a World Book Day book or used to get £1 off a full price book. An additional 100 £1 World Book Day titles will also be gifted to local charity NEPACS, which supports the families of prisoners in the North East. 
Millions of children will dress up as their favourite book characters and exciting events are taking place across the North East: 
• The Biggest Book Show on Earth is coming to Newcastle Theatre Royal on Saturday 3 March. This official World Book Day event is supported by Read North East partner Seven Stories, The National Centre for Children's Books, and features an all-star line-up of authors and illustrators. 
• As part of the Middlesbrough Reads campaign, pupils from Park End Primary School will enjoy a trip to the National Railway Museum in York on 6 March on a literacy-themed Grand Central train

Find out more about Read North East at www.readnortheast.org.uk.