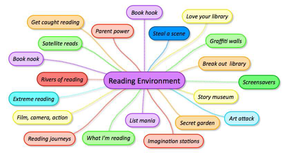 "In too many schools there is no coherent policy on reading overall; schools put in place numerous programmes to support reading, especially for weak readers, but do not have an overall conception of what makes a good reader."

Moving English forward, Ofsted, 2012
The development of children's reading skills and comprehension is intertwined with the need to nurture a love of books and reading to create life-long readers.
These resources provide ideas for inspiring a positive whole-school reading environment in secondary schools. Have a look at our resources on developing whole-school reading environments in primary schools.
You'll find:
Tips for making the most of tutor time to engage the whole school in literacy activities and develop speaking and listening skills.
A pupil reading survey
A list of books that complement the humanities
20 practical ideas to inspire a vibrant, whole-school reading environment from book nooks to displays, outdoor reading spaces to homework ideas. This was written with primary schools in mind but many of the ideas will be of use in secondary schools.
To develop this more in your school, find out about our secondary Reading for Pleasure CPD.
Download files
You might also be interested in