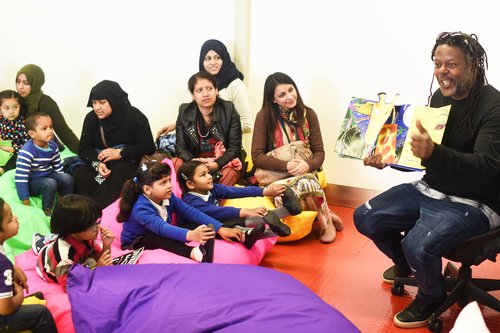 National Storytelling Week Activities
To celebrate storytelling week, taking place from 27 January to 4 February 2024, we're creating a programme of events and resources to help you take your pupils on a journey from listening to stories to becoming young storytellers themselves.
Our flexible storytelling activities - designed for learners across a wide age range covering Early years, KS1, KS2 and KS3 - can also be used throughout the year to activate the power and magic of storytelling to build children's confidence and skills.
What is National Storytelling Week?
National Storytelling Week takes place at the end of January every year and is a celebration of the power of sharing stories. Stories teach us about the world, they allow us to step into someone else's shoes and feel empathy, they help us to relax and escape and they can help develop essential literacy skills.
National Storytelling Week resources for early years through to KS3
For 2024 we'll be updating this page with new classroom resources and online events to help you to celebrate storytelling - whether for National Storytelling Week or in lessons throughout the year - in your schools and settings. Resources will include practical ideas for learning opportunities that aim to foster a love of storytelling whilst developing pupils' speaking and listening skills through chances to explore and listen to stories, as well as tell their own.
---
Additional classroom storytelling activities
---
Storytelling resources for families
We also have resources to help families enjoy the age-old tradition of storytelling and share their own stories, memories, and experiences.
You can download our community guide, which will give you some tips and ideas to help build excitement around Storytelling Week within your local area and community.
Explore family activities