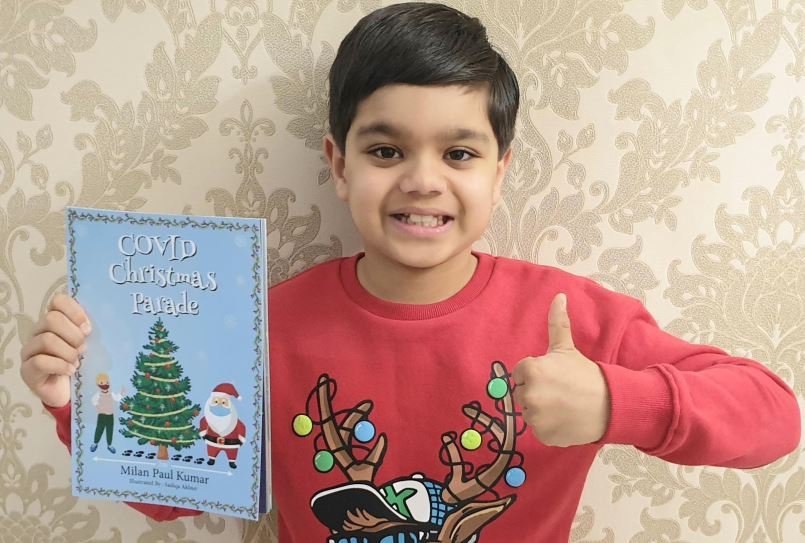 Eight year old Milan Kumar from Bolton, has given months of his time this year to support other children whose literacy and learning have been most affected by COVID-19 by taking on various challenges and putting his amazing reading and writing skills to use to raise money for the National Literacy Trust.
During the first lockdown, Milan read an incredible 50 books – including titles by David Walliams, J.K. Rowling, William Shakespeare and Nelson Mandela – and his achievements were recognised as "absolutely wonderful" in a special letter from the National Literacy Trust's Patron, Her Royal Highness The Duchess of Cornwall.
When we launched our summer fundraising challenge called #FitforLit, Milan combined his two favourite hobbies into one stellar challenge for himself. Over 10 days, Milan cycled 50 laps a day – one lap for every book he read during lockdown – around the University of Bolton Stadium raising over £2,000 for us!
Milan then went onto become a Premier League Reading Stars Ambassador for Bolton Wanderers Football Club, as part of the programme we run in partnership with the Premier League which inspires children to get into reading through their love of sport. As an ambassador, Milan has been reading and reviewing many books on his social media throughout the autumn to inspire others.
In the lead up to Christmas, Milan has not slowed in his enthusiasm or dedication to helping the National Literacy Trust in ourmission. He recently wrote and published a new children's book on Amazon called Covid Christmas Parade all about a young boy who is determined to bring back his town's Christmas cheer in light of the pandemic and is donating all proceeds to the National Literacy Trust.
What's more, he also wrote to Amazon to explain all of his wonderful fundraising efforts this year and the reason why he published this book and Amazon were so impressed with his hard work, they donated £1000 to the National Literacy Trust in Milan's name.
I feel proud knowing I have made a difference to the lives of other children because reading promotes health and well-being. I love reading and learning about the world through books and I want to help as many children as possible discover the magic of reading and all the great the benefits it comes with.

Milan Kumar
Buy Milan's book via Amazon today and help the National Literacy Trust give disadvantaged children the literacy skills they need to succeed in life.