Event details
Date: Sunday 24 March 2024
Time: TBC
Location: Battersea Park, London
About last year's event
Our supporters made our 2023 Where's Wally? Fun Run such a lovely and positive event and we're hoping to make it even bigger and better for 2024! We can now confirm that it will be held on 24 March 2024, further details on the location and how to sign up will be confirmed soon...
The impact of our Where's Wally? Fun Run 2023
The £20,000 raised by our supporters who took part in this year's Where's Wally? Fun Run will make an enormous difference in the lives of children from disadvantaged backgrounds, who we know start school 19 months behind their more privileged peers. This disadvantage impacts their whole lives, as it makes it more difficult for them to achieve their full potential at school, get a job and function in their day-to-day lives.
Thanks to the support of our lovely Wallys, we can help children build the literacy skills they need to succeed.
Thank you so much to all those who supported us in 2023, we hope that you had so much fun that you're keen to don your red and white stripes again for 2024!
Virtual Where's Wally? Fun Run
If you can't join us in London on Sunday 24 March, then take part in your own Where's Wally? Fun Run wherever you are in the country! Gather your community, rally your family or take on a solo challenge and organise a virtual Wally run.
Learn more about running a virtual race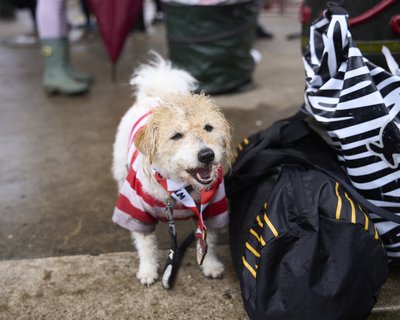 Continue supporting the National Literacy Trust
We are so grateful to each and every one of you who took part in the Where's Wally? Fun Run and fundraised for us. If you loved being a Wally and are keen to do more to support the National Literacy Trust, see below for some ideas about how you can organise your own fundraising activity or become a regular supporter.
Why not get creative and organise your own fundraising event in your local community? We're lucky to have many amazing community fundraisers - read their stories to...

Learn more

Make a lasting difference and transform the life stories of disadvantaged children.

Learn more

Could you host a literacy quiz to raise funds, and help support disadvantaged children throughout the current crisis?

Learn more