FAQs
Read below for answers to your questions on:
Fundraising for your Where's Wally? Fun Run
What will my fundraising go towards?
As a charity that exists to change the lives of children from disadvantaged backgrounds, there has never been a more important time for our work. The money you raise will help support the literacy and learning of children across the UK, giving them a route out of poverty and changing their life story. Learn more about our work.
Is there a fundraising target?
We are starting with a £50 fundraising target but encouraging all our runners to raise as much as possible. Everyone who raises at least £100 will be entered into a draw to win some fantastic prizes.
How do I set up my fundraising page?
When you registered, a Just Giving page should have been automatically set up for you. If not, please follow these instructions to set your JustGiving page. Every penny will make a big difference to children who need our support.
Do you have any tips to help with my fundraising?
Visit our fundraising guide for plenty of hints, tips and ideas to help you smash your target.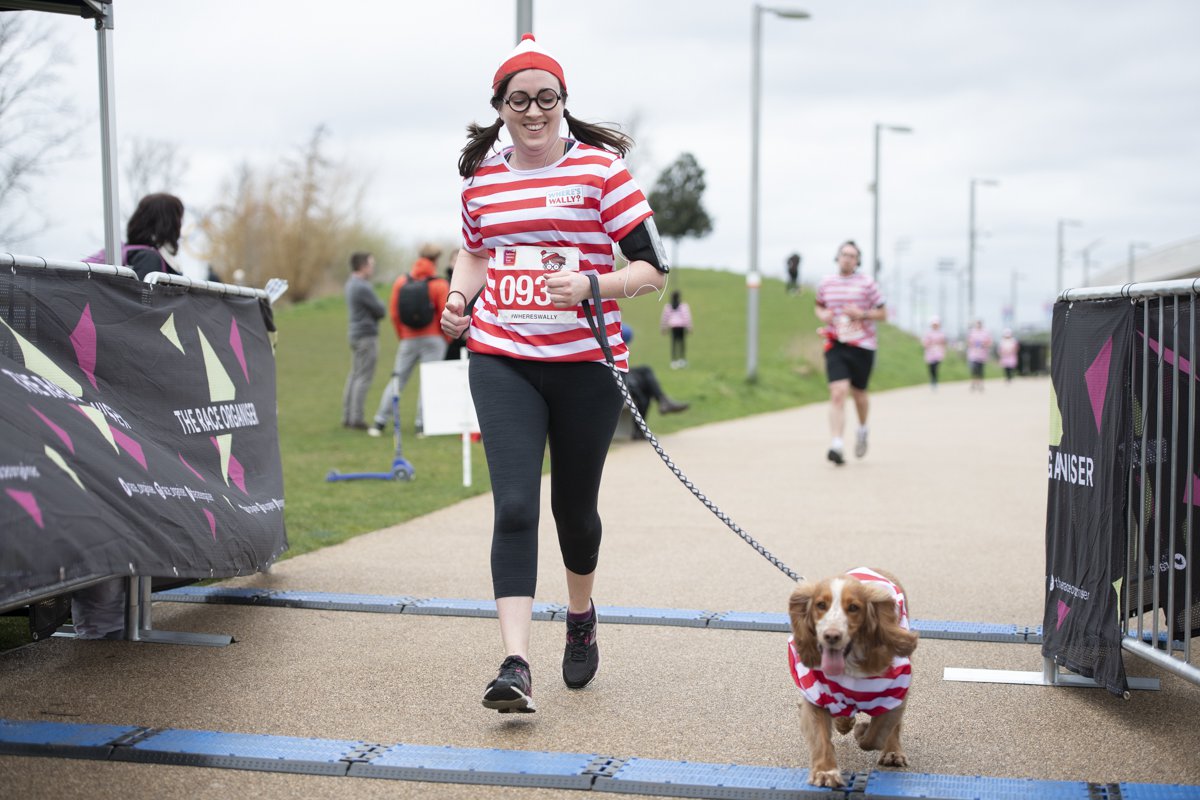 Arrangements on the day
Date: Sunday 24 March 2024
Time: TBC
Location: Battersea Park, London, SW11 4NJ
What to expect on the morning of the race
How do I prepare for the race?
Think about your training and what you should eat and drink in the 24 hours before the event. If you've not trained as well as you hoped, be prepared to take it easy, particularly for the first half of the race.
Plan your journey carefully - travel information for getting to Battersea Park is below.
How do I get to the race?
Head to the Where's Wally? event village in Battersea Park: Bandstand in Battersea Park, London, SW11 4NJ.
View the event location here: https://w3w.co/loses.flags.sticky
Travel: We recommend you use the TFL website to plan your journey to ensure you have the most up-to-date information.
There are a limited number of Blue Badge holder spaces that are available on a first come, first served basis. Please visit the park website for further information on getting to the race.
What time should I arrive and when do the races start?
At arrival you'll need to register before the race so it is important to be there in plenty of time.
The children's (under 12) 1km race starts at 09:45am and will be completed before the main race.
The 5 and 10km races will start at 10:00am. The start line will remaining open for a few minutes for those who'd prefer a more relaxed and spacious start.
Aim to arrive at 9:00am so you have plenty of time to register and prepare for the race.
On-the-day registration is available. Do you know someone else who would like to take part? Bring them along! (cards only)
Registration
At registration, you'll be asked to confirm your details before collecting a race number, costume and safety pins.
Costume sizes are child (one size only), or adults medium or large - please ensure that any discarded costumes are places in the bins provided.
Toilets
The park toilets are situated close to the event village and will be signposted. You will pass the toilets every lap - no other toilets are available on the route
Bag Drop
You can leave any clothing, bags, keys and phones at our bag drop. Your race number has a tear-off strip on the bottom that should be attached to anything you leave with us.
Can I bring my dog?
Yes! Well behaved dogs on leads are very welcome to join us at the Where's Wally? Fun Run. We love seeing pets dressed up as Wally!
The Race
The 5 and 10km races start promptly at 10:00am once all the 1km participants have finished. We'll make announcements asking you to prepare to run and move into the start area shortly before the race.
The course is all on tarmac pathway and made up of 4 laps for the 10km, 2 laps for the 5km and a 500m out and back for the 1km.
The course is marshalled, signed with arrows and kilometre markers.
Course Map
You can see the interactive course map here: Route map.
Water Stations
There is a water station which you will pass every lap - water will be in cups.
Spectators
Spectators are permitted anywhere in the park and around the route. Please be mindful of others' comfort and safety in more popular locations, including the finish area.
Race Village
There will be fun activities in the race village for all the family.
Finish Line
When you've recovered, collect your medal, water and snacks from next to the finish area, and don't forget to collect any belongings you've left with us.
Any lost property or left belongings will be kept for one month.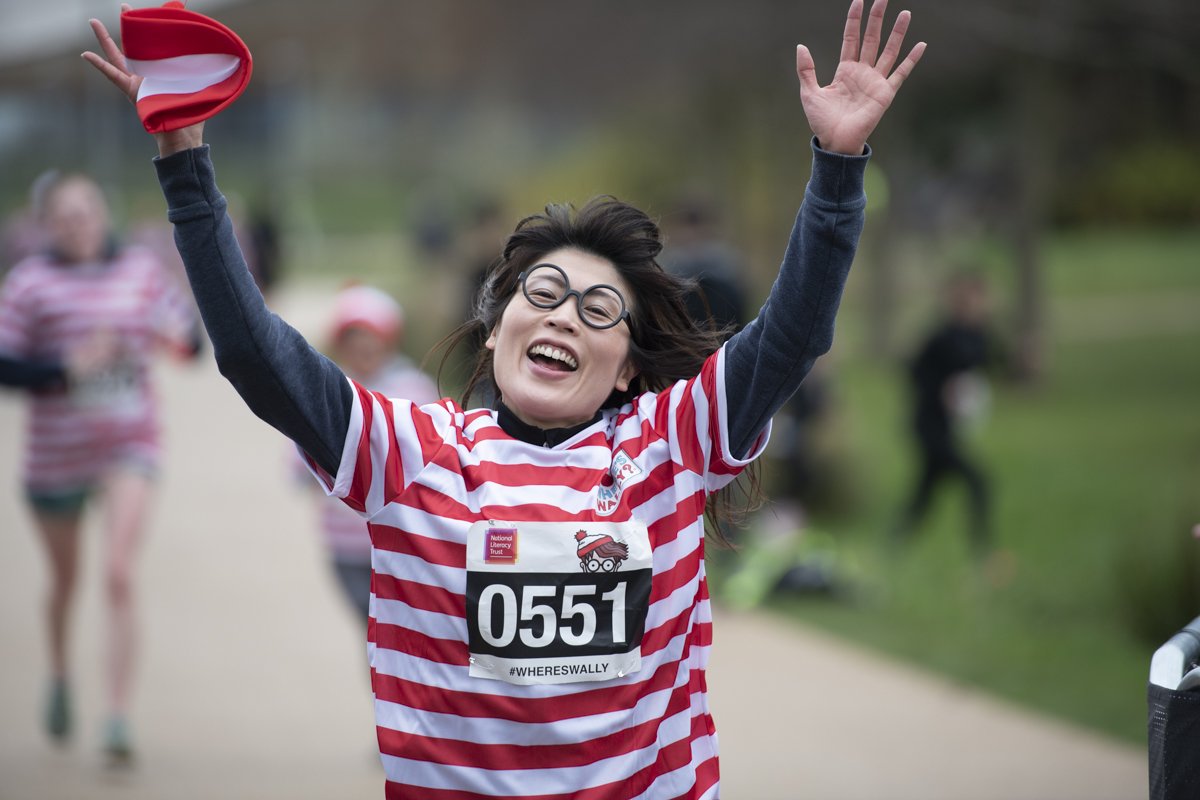 What happens once the race is finished?
Congratulations, you've finished! Visit the medal desk and collect your well-earned refreshments and exclusive Where's Wally? medal.
When will I receive the results of the race?
A complete set of results will be posted online and emailed to all runners on Monday afternoon.
How do you award the fastest runner?
Individual times are determined by the finishing time recorded by the chip timer. Awards will be given for the fastest male and fastest female in the 1km, 5km and 10km routes.
Filming and photography
We will be filming and taking photos during the event. If you don't want to be featured, please let a member of the National Literacy Trust staff know.