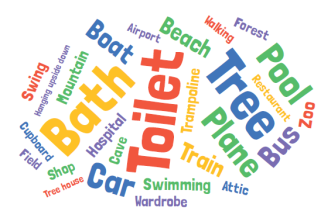 Our new research revealed that the place kids most love to read is in bed – with other top contenders including on the sofa, in the library and when travelling on a bus, train or plane. Kids also revealed the strangest places they enjoying escaping with a book, such as on the toilet, up a tree and on a trampoline.
In the spirit of the findings, new Children's Laureate, Cressida Cowell, has joined top children's authors to reveal their favourite reading spots in a series of fantastic photos to inspire kids to find new and exciting places to read this summer:
Cressida Cowell (How to Train Your Dragon and The Wizards of Once) enjoys reading in her marvellous writing shed
Former Children's Laureate, Lauren Child (Charlie and Lola, Clarice Bean and Ruby Redfort), loves escaping to read on the roof
Clare Balding (The Racehorse Who Learned to Dance) loves reading in her garden
Greg James and Chris Smith (Kid Normal) take every opportunity to read together outdoors
Liz Pichon (Tom Gates) delves into her favourite stories on the sofa
Patrice Lawrence (Orangeboy) can be found reading in the garden
Ben Lyttleton (Football School) likes to catch up on reading while waiting for the bus
Katherine Rundell (Rooftoppers) loves reading in the park in the summer
While school might be the last thing on kids' minds during the summer holidays, helping them to find or visit interesting places in which to read is one of the ways to prevent learning loss over the break.
Our research shows that seven in ten children read in bed – making it the most popular place children of all ages like to read.
The research also found that more children and young people who read when they are travelling on a bus, train or plane enjoy reading and read more often than their peers who read at home or out and about.
"Books can take children on incredible adventures – opening up new worlds, feeding their imaginations and giving them big ideas! The summer holidays are a great time for families to explore stories together and to do so in places they might not usually get the chance to. I spent most of my childhood devouring books on a remote Scottish Island – and it turned me into the writer I am today. Children and young people have revealed that they love to read in some truly inspired places, so let's follow their lead!"

Children's Laureate, Cressida Cowell
We have also published a new book list to help children and young people of all ages to find the best book to read in a whole variety of fun places this summer: in bed, while travelling, outdoors and by the pool. We've also created a step-by-step guide to help families build their very own reading dens with things found around the house.
Over the summer, we're also encouraging everyone to share a photo on social media of the place they most love to #getlost in a story. To get involved, use the hashtag #GetLost and follow @Literacy_Trust on Twitter, @literacy_trust on Instagram and on Facebook.